When a love is strange and strong and true, it removes us from what we have known and returns us as strangers to the old hours. It is a transformation of uncertain value however, because like a fire, it has a brightness that dims and leaves a bed of cinders.  A traveler might feel safe to love.  At least, he or she regards love as a risk like any other on the road, as perilous as buying lunch, or stepping out of a train.  A wanderer, stopping in a expansive plaza, balances on a ledge no wider than a pin head: the space where past and future meet.  She knows the transience of things.  She has witnessed whole cities swallowed by the river of land moving behind a bus window.  He wakes up in the morning and finds a bottle of green glass, empty of liquor and full of drowned hours.  Seconds shed the moment they bloom for someone with the power to leave anything behind.  They move at the speed and in the strange courses of fascination.  Two travelers can meet body and body like stone upon flint to spark a flame that burns others, that they pass through like a finger through a candle's tail because they move.
Love dies in the waiting.  Pencil thin November shadows snare it.  Consider this: a flame and a penny both shine.  One dies in cinders, the other lingers, but a flame never dulls beneath too many caresses.  After a certain time, people who have struck too many sparks begin to fear the numbness in their hands.  They've lost the feeling in the tips of their fingers from so many days gone up in flame and they regard the four letter word not as not a thing they can hang over the hearth for old age, but a movement like the swipe of the match that uses them up in the transformation – the birth of heat, the breathing of form.
Most people withdraw some and resign to a safer distance from passion.  The middle aged of soul admire love along with other uninhabitable lights on the horizon.  The near miss is the best they can hope for.
I loved Before Sunrise.  In a sense, that's why I was so afraid to watch Before Sunset.  I had loved the first and moved on and came to this sequel nervously, fully expecting it couldn't compare to what it had been.  Though it's only been a week since I watched the first film, I feel like I've aged with the couple and developed their doubts. You leave them in the first film at the natural ending point of any pure honest love: its birth.  You were happy to leave them in Vienna, with the promise of the world lighting them and before they could discover their problems.  I came to this movie as the characters Jesse and Celine meet each other: with pedestals worn down, embarrassed by the enthusiasm they once shared and eager to display their familiarity with new a mild, beige colored skepticism.  They feel full of distance.
It is nine years later.  People are more mature, love is a little shabbier, and Europe looks a little more like the cities we eat breakfast, go to work, and go to bed in and less like the places where poets write beside rivers and mystics pluck the strings of destiny in a palm.  Jesse has gone on a European tour to promote his novel.  It is about a young man who meets a young woman on a train, bound for Vienna.  At the end of his interview, he looks up and sees Celine in the crowd.  Like the first movie, they take a risk and go on a walk, daring and daring each other. But instead of taking place over twenty four hours, this more mature meeting takes place in real time – less than an hour and a half.  The world has less time and space for love.  Paris, the City of Love, feels more matter of fact than Vienna.  Cupped palms don't hold the shadows of fate for tellers to read, just a coolness. There are no shots of the Parisian skyline except at the beginning of the movie and once, towards the end.  You see the City of Light as someone who has lived there long, pruned of fairy lights by time.  You can feel normal life pressing on the walls.  The movie asks the question that the first so deftly avoids because of the comet like velocity of the characters: should you risk love to the hours of normal life?
Jesse and Celine too look older, skinnier, gaunt from a poverty of ideals and attractive because its a pose they've learned.  Their bodies look sharper, the way a knife might after it has learned to be used as an edge.  But when they begin to talk, you meet the same old Jesse and the same old Celine, deeper, wearier, and more interesting because they've evolved to meet problems that grow, or rather, grow far.
Jesse and Celine talk about the same things they did in the first film, except now from a distance removed.  They ruminate on love and death, religion and marriage, and are troubled by their questions some of which have lingered these nine years but most of all by the way the fabric of these questions has faded.  They observe distantly that they are less concerned, and growing further from concern.  A numbness about everything has settled in like dust. They harbor the same flames of anguish, but even these flames have paled.  Because we are our questions, when their fabric fades, we do too.  Celine and Jesse have stop wondering about what things are and have begun to wonder when they'll end, what can last a few more days, a few more weeks working this job, sleeping next to this person.
Their conversations are real and incredible and muted.  Jesse and Celine remain incredible because they observe the way life loses its color without losing color themselves.  They remain fascinating, observing the boredom and the emptiness of adulthood.  They see less, but it makes them more.
I hope you watch this film.  Is is everything it needed to be because it grew up with Jesse and Celine.  It matured into its doubts.  I hope you like them, this couple that so resembles an Adam and Eve who never heard God's voice rumble through the Garden.  I believe that anyone who has loved or has questioned love with honesty will enjoy walking around Paris with them, will find moments searing, will worry about their loss of feeling, will hear the echo of a prophecy the clatter of a leaf fallen on a sidewalk, will flinch at a withdrawn hand and will eye the walls of the staircase, listening to them breathe.  They'll see less and be more for it.
The Good: A love story in Paris that has no heady overtones of lights bobbing in the river.
The Better: Meeting Jesse and Celine and finding them the same, if nicked and scratched.
The Best:  A sequel to a young love story that answers the more mature question of whether romantic love can survive day to day life.
Overall: 9.1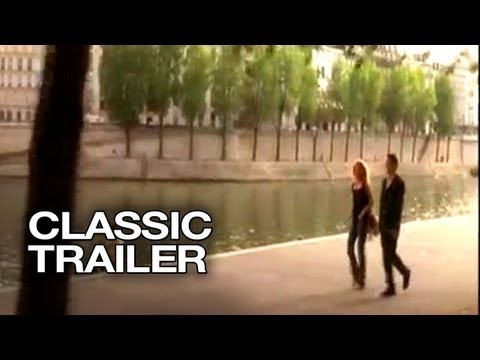 Michael is an avid writer, recluse, one-time vagabond, beer-brewer, and reluctant bartender in the vast No-where flats of Ohio. When not working on his short stories, you can find him in his room watching movies, or ignoring everyone in public with his face in a book and a beer in his hand. He graduated with degrees in writing and philosophy and plans this fall to move on to the University of Virginia, to pursue his MFA in fiction. He'll gladly sit down with you and a beer to discuss a film.