There really isn't anything new that 2 Guns brings to the table and a lot of the enjoyment it tries to wring out depends on if you are tired of these kinds of films or not. Personally, I very much was walking into this. You have DEA agent Bobby Trench (Denzel Washington) and an NCIS agent Michael "Stig" Stigman (Mark Wahlberg) who team up in hopes of stealing money from the Mexican cartel, but of course they find out each other is a backstabbing agent and must either team up to fight the ones who set them up, or kill each other. By now, I assume you know which option they choose.
That being said, there is something about the way director Baltasar Kormakur handles this film, making it much more enjoyable than expected. He doesn't take the movie too seriously like Oliver Stone did with Savages, but instead knows how to shoot action and when it is a good time for Wahlberg to deliver a funny line. I haven't been a fan of Kormakur through the years, especially not liking last year's Contraband all that much, but here he seems to find a middle ground that suits him. Of course, that is comparing a buddy-cop movie to a sinister crime-drama, but it's clear what Kormakur has a better eye for.
It's kind of a given that Denzel Washington is a fine actor and will give a good performance to the best of his abilities, and here he once again proves that he knows what he's doing. His Bobby Trench is a fun, sly character who goes as far as to put two fake gold teeth in his mouth so that Stigman doesn't have any suspicions that he is working with the DEA. Trench is also having a side relationship with Deb (Paula Patton), a DEA agent as well and former girlfriend (no relationship now, just sex). The scenes involving both Deb and Trench are a little clunky as the film rolls on, being the only real thing that slows the pacing. However, by the end you do feel enough for their relationship to have a great scene with Washington who gets to show an ounce of emotion. But other than that particular scene you feel nothing.
Mark Wahlberg, who I think has finally come in as his own, deals with most of the comedic lines throughout the film and most of them work well. We saw his ability to deliver jokes in Ted, but this is a whole different level of comedy. Wahlberg continues to make you smile as he just has this charm about him which you cannot help but enjoy. The problem with his character is that he acts kind of dumb; dumber than you would expect and it throws you off a lot of the time as you never get a sense of exactly what he is trying to do with the character.
However, the major selling point for 2 Guns, other than the action, is Washington and Wahlberg's chemistry and it does well at giving you exactly what you want. The scenes involving both these actors are easily the best scenes in the entire film, which is quite the surprise. I'm not sure how well the comic (to which this film is based off) conveys the relationship between these two characters, but if it is anywhere near as good as it is in this film, I might just have to seek it out to read for myself. There is an action sequence involving both characters in separate cars who are fighting each other, and aside from it being the highlight action set piece of the film, it is incredibly funny and well shot.
To add more characters to the film would seems like a travesty, but who they add makes a lot more of a fun experience while watching this. The kingpin of the Mexican cartel, Papi Greco (Edward James Olmos), is the menacing villain who always has people watching and it's a great character to see in this film. Olmos plays him well and one of the funniest jokes involves him and Wahlberg in a scene that had me laugh both times he used it. You also have Quince (James Marsden) who is the cause of Stigman even in this operation. He is the guy who has the requirements for Trench and Stigman to essentially escape from the set-up. Finally you have the best of the trio, CIA agent Earl (Bill Paxton), who instead of being menacing or has the goods, just decides to go in, make people talk by physical means, and gets out. This is the best I've seen Paxton in a long time and it's noticeable how much fun he is having here.
When it comes to a film like 2 Guns you go in not expecting something new, but a good popcorn flick that satisfies; and that is exactly what this is. I'm most surprised by how it balances three different villains than anything, as well as the chemistry between our main actors. A finale is much delivered and ends the film with an over-the-top action scene, but at the point that it happens, anything far-fetched works. In a tiring genre that hasn't offered much lately, 2 Guns brings the best out of it. If only there were more like it.
The Good: the chemistry between Denzel Washington and Mark Wahlberg, well shot action, and the three villains don't fell heavy-handed.
The Bad: scenes with both Washington and Paula Patton don't add enough of an emotional connection by the end of the film.
The Ugly: nothing original is brought to the genre.
Overall: 7.4/10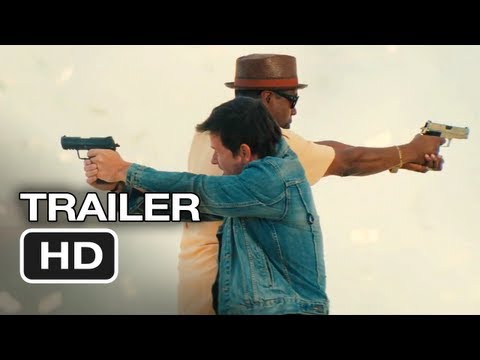 Written By Colin
Colin is a writer, blogger, and one-time playwright. He's always trying to stay busy, but sometimes fails due to the necessity of sleep. Film advocate by day, piracy fighting by night. He will give any movie a chance no matter how bad the word-of-mouth is. There is always this fix he needs to watch a movie or television episode a day, because this is what he loves more than anything. Twitter is the best way to find out what Colin is doing, as he tweets all the time.