What is it with girls and tea?
I've wondered this for a long time. I never actually asked it out loud – it's not really the kind of question you can pose without sounding a little strange. Not every girl loves tea, of course, and not every girl has a cabinet full of different teas neatly stacked in order, but I've noticed that a disproportionate amount of girls – namely the type who sport highlighted hair – do. This is an example of a question based off an observation that I thought I had made all by myself, a question I tucked away somewhere along with a collection of other papers and forgot about. These unspoken questions that stand in the darkened corners of the twenty something year old psyche are the lenses through which Scott Pilgrim vs the World shines in all its technicolor glory. (For the record, the film itself didn't actually answer the tea question for me. It just asked the same question I did, and did so in a way that implied it knew the answer and wasn't telling.) But let's go ahead and back up.
The first time I ever saw Scott Pilgrim vs The World I was coming off of the nastiest breakup this side of Hamlet and Ophelia. The venue I saw it in was a beat down old dollar theater in a narrow Boston neighborhood whose name escapes my memory. The seats were literally collapsed in most of the domed rows, so my companions and I had to stalk about for a few minutes to find a place that three of us could sit side by side. What's that got to do with the film? some might wonder. Everything, I might reply. Scott Pilgrim, after all, is a film that dances along the fourth wall. Where you are in the world and where you are in your life will both change the film you see so utterly that it becomes a different film every time you see it.
In an embarrassing admission, I had not read Bryan Lee O'Malley's graphic novels of the same name before I saw this film – something I generally do my best to avoid at all costs – and therefore knew little about what I was signing up for. I've concluded upon review that a curious viewer need only watch the opening three minutes and thirty seconds to understand the nature of this film. Scott Pilgrim is a movie about the story written in between the lines of our lives – a comedy blacker than a jar of comic book ink and funny as only something both true and truly crushing can be. When first I saw this film, I walked out of the theater exhilarated, socked, and something akin to a pulverized steak. The second time I watched it, I walked out of it amused, embarrassed, and something akin to a pulverized steak. See the connection? Viewers beware – these jokes hit hard.
There's a scene about a third of the way through the film wherein Scott denies that his breakup with Envy – the Big One, also referred to as She Who Will Not Be Named – was anything to write home about. An off screen narrator comments on all of this as Scott weaves his tale, poking holes in every single one of Scott's lies. "Bad time? Oh, not really," Scott says to Ramona, the polychromatic haired wonder woman he's in love with. "It was," the narrator confides to us. "It was a mutual thing," Scott says. "It wasn't," the narrator says. "At least," Scott concludes, "She told me it was." The narrator finishes up strong. "She dumped him," he explains to us. "It was brutal." That merciless, tongue in cheek honesty is the thing about a film like Scott Pilgrim that makes it incredible. One of the many, many things.
Let's take a minute to examine the storyline. It's deceptively clever film with a startlingly simple story. Here's the narrative for you in a nutshell – nerdy guy has to fight to get the Girl. That's it. Cue applause. There really aren't any twists, yet the story still has the capacity to surprise, and Scott Pilgrim puts on a clinic showing exactly how. You see, I have in recent years begrudgingly concluded that if there was ever a story to be written about the trials and tribulations of human life, Shakespeare pretty much already wrote it. (To all my fellow writers out there, you may come to agree with me yet, if you haven't already.) What director Edgar Wright (Hot Fuzz, Shaun of the Dead) shows us in Scott Pilgrim vs. The World, however, is that an old story has the capacity to be electrifying given an infusion of fresh imagination.
Edgar Wright is the best director to do something like this. His vision of the graphic novel is a world full of bright color, light, textures, sounds and sensations. A film like this you can't help but watch and notice a million new details every time you revisit it. No sound is out of place, no pop culture reference delivered without a wink, no scene anything but crisp, brief and sharp as a blade. When the camera lingers, we grow nervous. Life, like the film, is always moving. It's when things go slowly that something invisible threatens from somewhere we cannot quite see it.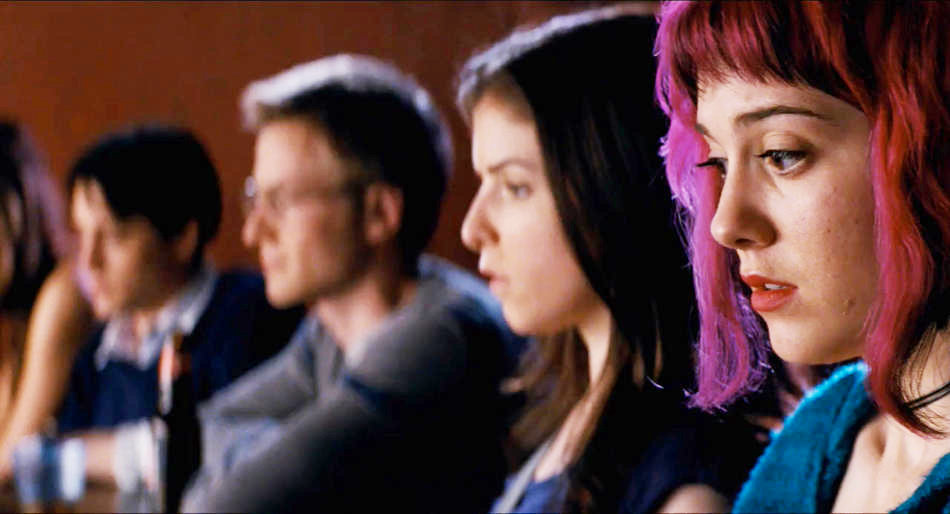 Now, a word about the actors. I've always been lukewarm towards Michael Cera – he's typecast in the truest sense of the word, always playing the exact same person without ever seeming like he's made even the slightest effort to get out of it. Yet he is perfect for Scott Pilgrim in the same way that Robert Downey Jr. is perfect for Tony Stark. Pilgrim is a squishy guy with shaggy hair, a quasi-nobody who shouldn't ever get the girl yet somehow always stumbles into them. He's a perfect representation of how most men see themselves, and the women in the film are great depictions of how those same men see the women they are surrounded by. Mary Elizabeth Winstead is spot on as Ramona, perfectly balancing attractive vulnerability with dangerously alluring indifference.
The real gem in this flick, however, is to be found in Kieran Culkin's brilliant portrayal of Scott's cool-gay roommate Wallace. Wallace is clever, sarcastic and strangely wise, acting as the counterpart to Scott's younger sister Stacey, played with equal verve by Anna Kendricks. Wallace is the voice of security in the film – not security for Scott or we the audience, of course, but security for Wallace himself. Wallace is the only character besides Stacey who is utterly impervious to the world around him, winning all his battles without any perceivable effort. Wallace is the face of Everybody Else – those people we know whose lives fall into place like clockwork and we can't help but hate/love them for their luck. Kieran Culkin is, in my opinion, the heart of this movie. "She's with Gideon now," Scott confides to Wallace at one point. "Aw, man," Wallace replies sympathetically. He pats Scott on the shoulder. "It's probably just because he's better than you."
Upon re-watching for this review, I concluded that Scott Pilgrim is a raw film. It won't find its way into your heart, persay, but will definitely find a lot of nerve endings and dance on them, especially if you look past all its flashy laughter. There's an emotional undercurrent to the film that hides behind the comedy, and it's a very ugly creature with hooked teeth. I consider a sequence I remember quite clearly, wherein Ramona is walking with Scott and she is pushing him to re-examine his own history with women. "What about you and Kim?" Ramona asks him, referring to Scott's beautiful ginger Ex who acts tougher than she is, and who we love from the moment we see her. "Me and Kim?" Scott echoes evasively. "I can barely remember. It was high school. She had freckles." Kim blinks, and somewhere in the distance we hear the sound of breaking glass. It's a testament to the quality of this film and it's self-contained universe that the first time I saw this I thought "What appropriate timing." It wasn't until later that I remembered that there are no coincidences in film. That sound was meant to be there. Edgar Wright told a whole story with that blink, and that sound of breaking glass.
The lessons in Scott Pilgrim are hard ones. The film proposes to us that we are, for the most part, usually the villain in our own stories. We have the capacity to be decent, certainly, and can at times rise to levels of true and exhilarating heroism, but for the most part we are simply human – fallible, uncertain, and ungainly in our love. At the end of a love story, someone always gets hurt. Perhaps most tragic of all, Scott Pilgrim proposes that our fights are our own. No one will fight for us – anything you want, you've got to fight for yourself. And – as the film also points out – occasionally you've got to fight dirty. (You just drank half and half, baby.) I'd comment further on the nature of the fighting in this movie, but to be honest, I'd rather you just watched and found out for yourself. Suffice it to say, in the words of Samuel L. Jackson, "Hold onto your butts."
In the end, Scott Pilgrim vs. The World is a movie relatable to anyone who's ever loved, lost, and fought for someone they didn't think they could ever be with. Love is messy, revenge is messier and forgiveness is the messiest part. Anyone who was ever twenty-something has played one of the main roles in this film. We've all had a Ramona, we've all had a Scott Pilgrim, and a Knives Chau, and an Envy. We've all felt utterly alone, and we've all gotten the shit kicked out of us in pursuit of an ideal that was in equal parts threatening and hopeful. So come on, if you're up for it. Watch this movie. Turn down the lights. Turn up the sound. Turn up your bloodlust, and find your courage. Life, like love, is one long solo round. Get ready. Here we go.
The Bottom Line: Brutal, hysterical and utterly brilliant, Scott Pilgrim was one of the very best films of 2010. Worth watching if you're coming off a breakup, getting into a relationship, or are just tumbling about in your Twenty-Somethings and want to fight something.
The Good: Seeing true synchronization in film – sights, sounds and story combine here to create something both dazzling and electric.
The Bad: The slightly weighty run time.
The Ugly: Breakups suck. Period.
Overall: 9.4/10
Written By Ries
Ries is a writer, blogger, amateur explorer and full time United States Marine. He graduated from DePauw University in 2011 with a Bachelor's Degree in English and is busy putting that degree to work writing elite movie reviews for sites like CineKatz. In his spare time he enjoys traveling, movie watching, talking to himself in the mirror and working on novels that may or may not ever be finished. Of all the things he misses about being a civilian, he misses his beard the most.