I've concluded, upon rewatching Robert Rodriguez's blood boob and balls fest Planet Terror for the umpteenth time, that the reason the film succeeds is because it is blistering, unapologetic, occasionally genuinely frightening and – perhaps most importantly – a hell of a lot of fun. Any movie that can open with a pole dance and still garner the enthusiasm of both genders must be doing something right. (Actually, in a bizarre twist of fate, I know more women who like this movie than I do men. Hooray for Hollywood? Sure. Why not.)
The cast isn't exactly star studded, but the actors that are here have so much fun with their roles it's impossible not to catch the disease of their enthusiasm. Sure, a couple big names grace the screen – Bruce Willis, Rose McGowan – but the real fun is to be found in the performances by Jeff Fahey as the BBQ hunter JT, Freddy Rodriguez as the mysterious El Wray and Josh Brolin as the genuinely terrifying Doc Block. (I know, Brolin is a big name now. He wasn't as much back then. At least I don't think he was. Look, the point is – this movie rocks, in large part because of him and his character that you hate and love and can't wait to see die a bloody death.)
I'd dedicate a paragraph explaining the plot of this movie, but in truth that's a waste of a paragraph. Plus, let's just be honest – you don't turn on Planet Terror to see a good story. You turn on Planet Terror to see copious amounts of excess gore, gloopy zombie goo, needlessly exposed bosoms and men smoking cigarettes out of boxes with apples on them. Hear ye, hear ye – Planet Terror is not a good movie. Planet Terror is a shameless amalgamation of trash and pulp, of dogs sitting at bar counters, fonts of blood taller than the lies the movie gorges itself on. Planet Terror is absolutely terrible from start to finish, and one of the best Halloween movies this side of…well…Halloween.
Zombies, my friends. Zombies. Zombies in a beautiful interpretation of the word – and I for one am not a zombie fan, in any iteration. I loved the 28 series, but loved it for its grittiness and emotional story. (I hated, for instance, the helicopter sequence in 28 Weeks Later which was a blatant rip off of, you guessed it, Planet Terror.) The zombies here are more like the mutated family out of The Hills Have Eyes than the zombies of Romero's envisioning. To be fair, Romero's zombies haven't really been around since they attacked that farm back before they learned how to run, but…well, you get my drift.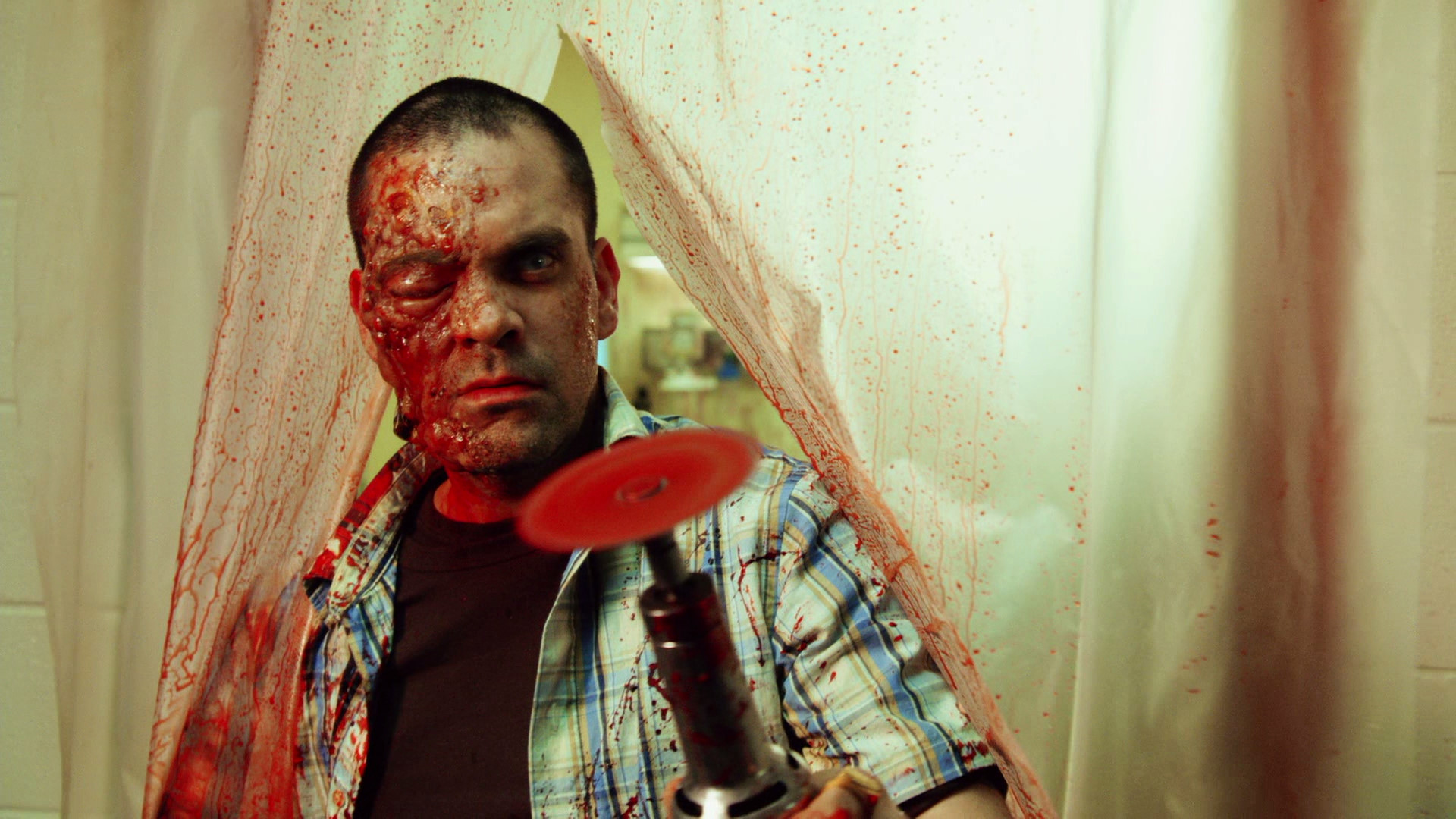 Any movie that can be as bloody as this and yet somehow remain relentlessly funny is doing something right. It's not funny in the dry fashion of Shaun of the Dead, but funny in a distinctly American vein of celebrating the overzealous. The filmmakers behind this movie (the aforementioned Robert Rodriguez as well as the mad genius Quentin Tarantino, with another one of his fantastically uncomfortable cameos on display here) lovingly recreate the terrible grindhouse movies of the seventies. Though I never had the not-so pleasurable experience of seeing a grindhouse flick, I know plenty of folks who did, and Planet Terror put the image I had in my head of the experience up on the screen for me to visit in all its glory on my own time.
There's a cleverness to this film that is as sly as it is well hidden. The movie looks as though it's being played off a cheap projector, the "film" jumps around with rogue hairs and scratches. There's an entire reel missing that cuts a gaping hole in the middle of the movie – I'll get to this more in a minute – and places where the sound dubbing doesn't quite match up to the lips. Part spaghetti western, part film noire, part horror, Planet Terror is a manic celebration of all film.
The fight scenes are brutal, crisp, and the violence is occasionally genuinely disturbing. A couple of the scenes are actually frightening (beware of car doors, bowls of soup and out of place close up shots) and the characters have enough of a backstory that, while you may not care about them on any deep level, you'll care about them superficially enough to give a damn when they die fantastically gruesome deaths. This is an example of when intelligent people make the smartest stupid movie they can wrangle.
It's a strangely knowing film, too. What I mean by this is that it knows what buttons to push and how many times to push them. I mentioned just now a missing reel halfway through the film. It comes at an opportune (or amusingly inopportune) moment, playing against the audience's expectations like a maestro at a harpsichord. Though I wouldn't hesitate recommending this film to anyone with a warped sense of humor or a love of gory, fun films (mature audiences only, folks) watching Planet Terror with a group or audience is the best way you can go.
This isn't to say the movie is without flaw. The jokes do wear thin, the ending feels ungainly and on occasion the movies strays into waters a little too dark for its own good. Over the top violence is a lot of fun, but subjects like rape, humiliation and infanticide aren't, period, full stop. (For those of you thinking that the rape sequence in Pulp Fiction was fun…well. I guess Tarantino would have more to talk with you about on that note than I.) Though Planet Terror flies by at a breezy 105 minutes, the movie loses a little steam as it goes along, stumbling in the final acts but managing to end on a startling note.
Fortunately, the package remains intact despite the occasional misstep. Planet Terror is a fun, inventive, occasionally terrifying but always entertaining piece of pulp fiction for a generation sadly deprived of the films it so lovingly emulates. An excellent addition to any Halloween canon – or indeed, any canon at all – Planet Terror is the most fun you'll have, given you have a twisted, twisted mind. (I'm talking to all of you reading this.) Entrust your cinematic sensibilities to a set of minds who know (clearly) that the trailers, the boobs, the sex and the blood are always the best part of any theater experience. So come on out. I'll see you at the concession stand.
The Bottom Line: See it. Alcohol can be a good addition to the film.
The Good: The cheesy, over the top violence.
The Bad: The fact that even the cheese can't mask some messed up stuff.
The Ugly: Jokes that…aren't funny. Period. Making money. More money than I'll ever have.
Overall: 8.9/10
Written By Ries
Ries is a writer, blogger, amateur explorer and full time United States Marine. He graduated from DePauw University in 2011 with a Bachelor's Degree in English and is busy putting that degree to work writing elite movie reviews for sites like CineKatz. In his spare time he enjoys traveling, movie watching, talking to himself in the mirror and working on novels that may or may not ever be finished. Of all the things he misses about being a civilian, he misses his beard the most.