Our very own Ries writes a review for The Blues Brothers for The CK's Not So Secret Santa Review Swap (in July). Enjoy:
The first thing I can think as I finish up watching the Blues Brothers for the first (yes, the first) time in my life is – man, I wish I'd seen that when I was eight years old, back when there wasn't yet a dissonance between the comedy of the world and the reality of it. It reminds me in some ways of Ghostbusters, my favorite comedy film of all time, though it does so only just, and in that way falls short of the masterpiece with an audacity that I cannot help but find off putting. That's right, folks, I said it – the Secret Santa swap added the Blues Brothers to my list of cinematic blasphemies. I did not like this movie.
Before I get pelted with rotten trash and bottles of beer, let me explain something else. I have a knack for making enemies over the "comedy classics" – I think the Blues Brothers caught the same disease that ailed other famous films like The Princess Bride, Blazing Saddles, Spaceballs, Uncle Buck and Airplane. My dislike for these films is a strange dislike. Usually when someone doesn't like a movie, they get pretty huffy about it if you press them. Like you're the idiot for liking the film. This time, though, I feel like I'm the idiot. Like something happened in the magic trick that I didn't see and I'm less of a film lover for it. I don't know what point I missed in the Blues Brothers, but I have a strong feeling it was there. Somewhere in the middle of the carnage was a purpose, and I missed the boat. Plus, I'm Catholic. The guilt is twofold.
But let's back up. Dan Akyroyd is, as per usual, amazing in this movie. I'll always know him as Ray (the man who taught me what to say when someone asks if you're a god, for instance) but he vanished into this role as effectively as a man might hide behind a pair of dark black sunglasses. He was fun to watch, he'll be fun to quote, and frankly, I wish he'd said more. It saddens me that so much of the film was given to the role of Jake, played by John Belushi, a character that grated on me unbearably basically every time he spoke. It's sad that Englewood had so little to say, but I suppose that was part of what made his character one of the only genuinely funny bits of this two hour pseudo-concert.
A word about the music. I was as happy to see James Brown and Ray Charles share a screen as the next guy, but there's only so much a film can offer when it's entire purpose is to be a vehicle for a bunch of musical numbers. That, and…here we go. Here comes the armageddon of hatred, but I'll go ahead and say it. The music in this flick really wasn't that good. Some parts were a lot of fun, namely the wonderful performance of Minnie the Moocher by Cab Calloway, but they were too few and far between to warrant an entire film to escort them. I was also quite happy with the sequence dedicated to Rawhide, but again…well, you get the idea.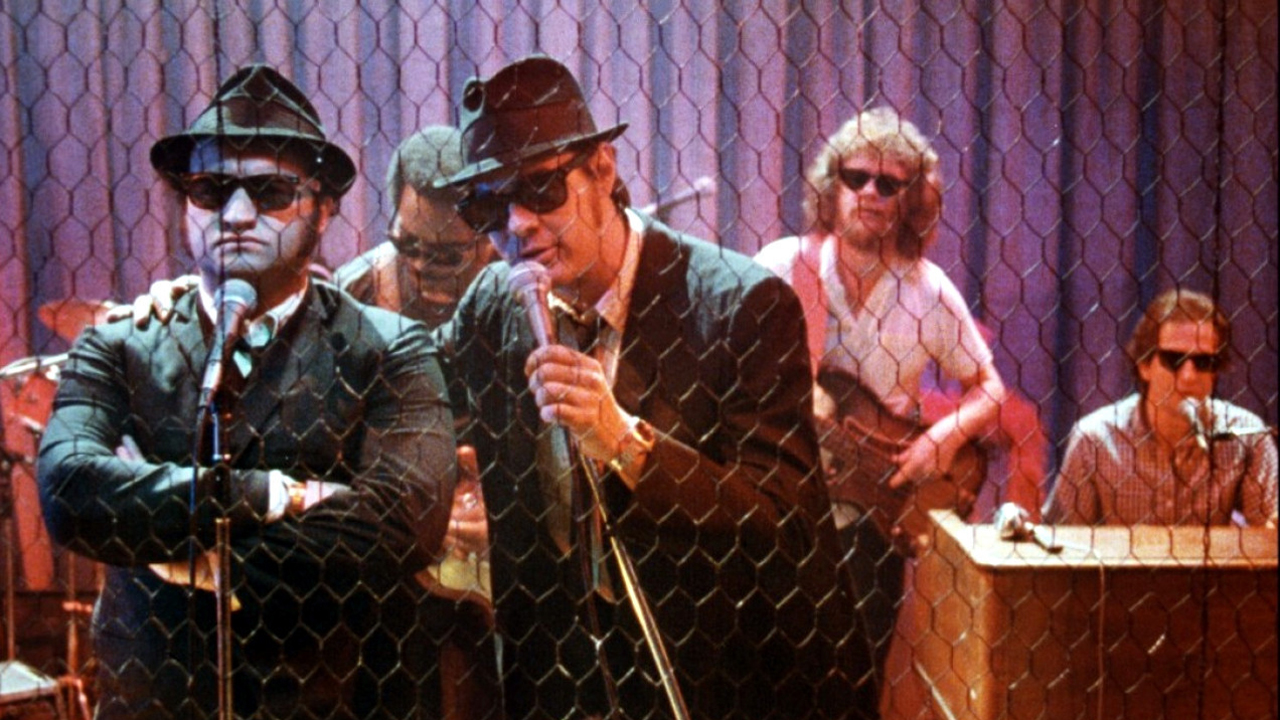 Now, on an interesting note – I have to point something else about this movie that irked me. It's not often (in fact, I think this may be the first time I've ever mentioned something along these lines) that I find the humor in a film genuinely mean spirited. I'm not saying that the film was mean spirited on the whole – it wasn't. Sometimes, however, I wondered where the humor was in abandoning a woman at the altar in front of her family, then weaseling your way back into her trust only to drop her in the mud. I wondered where the humor was in evading two well meaning cops, or in causing copious amounts of senseless (albeit cool to watch) destruction. In truth, I related more to Carrie Fisher's character and the cops than the Brothers.
It's not the first time a film like this has given me pause. I had a similar reaction after I finished watching Ferris Bueller's Day Off – hold the pitchforks, that movie's got one of my favorite scenes of all time – wherein I wondered at the humor of a film, and wondered what its creators were trying to achieve with it. Ferris Bueller's Day Off strikes me as a far more intelligent film than the Blues Brothers, but I think the Blues Brothers has more going on upstairs than people might give it credit for and/or hold it accountable to. I wonder if it's because a lot of comedies from this decade of filmmaking were thinly veiled commentaries on then-contemporary social issues, issues ranging from racism to feminism to a post World War II hatred for Nazi ideals, still lingering, still potent.
Ultimately, I didn't like this movie. Not at all. It didn't make me laugh, the music was stale, the acting was unimpressive and uninvolved, and it was about two hours too long. I've always wanted to see the Blues Brothers, so I didn't have a vendetta going into it, but I have to admit that I left it feeling incredibly underwhelmed and like I'd wasted two precious hours I could have spent unpacking my apartment sitting around watching a movie I had to force myself to endure. And there you have it, ladies and gentlemen. A loose film is a bad film, even if it is on a mission from God.
The Good: A great performance by Cab Calloway, and a neat cast of musical legends.
The Bad: The fact that outside generally lackluster musical numbers, this film hovers above unwatchable.
The Ugly: That I'm clearly missing the point of this movie, and my life is less glowy for it.
Overall: 5.5/10
Reviewer: Ries, of The Cinematic Katzenjammer
Santa: Aaron Pierce, Writer & Photographer
Written By Ries
Ries is a writer, blogger, amateur explorer and full time United States Marine. He graduated from DePauw University in 2011 with a Bachelor's Degree in English and is busy putting that degree to work writing elite movie reviews for sites like CineKatz. In his spare time he enjoys traveling, movie watching, talking to himself in the mirror and working on novels that may or may not ever be finished. Of all the things he misses about being a civilian, he misses his beard the most.