Sundance is always the start of the new wave of up-and-coming filmmakers, films with promise of critical acclaim, the revival of old talent, and the beginning of new fruitful acting careers. This year's festival was, in my opinion, a mix bag of the deserving of recognition and films that felt messy, incomplete, or unrefined in some way. I can say though the filmmakers did take risk to attempt to create relatable stories that would stick with us through the year. I give you six feature films of Sundance 2015 from the 15 I screened at the festival, which for me represent the good, bad, and forgettable films of this year's slate.
The Good
The Diary of a Teenage Girl
Just when you thought we had beaten the whole teenager coming-of-age, discovery of sex story into the ground, we get the skillfully crafted and illustrated The Diary of a Teenage Girl, a feature film debut by Marielle Heller adapted from the bestselling, fictionalized autobiographical graphic novel by Pheobe Gloeckner. The film takes on controversial matters without feeling totally seedy or sketchy, a testament to the filmmaker for finding beauty and enlightenment in fucked up situations.
Here we meet a 15-year-old Minnie Goetz (Bel Powley) in 1970s San Francisco. She is a girl not unlike other teenage girls, struggling with the annoyance of a bratty younger sister, adoring a mother (Kristen Wiig) for her beauty and sex appeal she wishes she possessed, and missing a father that is not in the picture while avoiding an ex-stepfather (Christopher Meloni) who is trying to stay in the picture. Let's not forget though that it is the 1970s, where drugs and sex are prominent fixtures in the hippie lifestyle, often colliding where fun or danger reside; much of it brought in by her mother with wild parties with friends and her string of boyfriends.
We enter the story on Minnie, specifically on her bell-bottomed clad booty as she excitedly and proudly sashays towards home and runs into her bedroom. You see, Minnie has just had sex for the first time, as she proudly exclaims into the microphone of her cassette-tape audio diary. But no, not with a classmate or the big brother of her best friend, Kimmie; it was from a scandalous coupling with her mother's tall, easy-going, mustached, 35-year old boyfriend Monroe (Alexander Skarsgard).
And from there we are audience to Minnie trying to carve out some sort of real yet secret relationship with Monroe who she fancies herself in love with and who doesn't do much to stop this inappropriate relationship.  She knows it is wrong but she revels in the fact that a grown man would want her as she has always thought of herself as fat. A budding and aspiring cartoonist, Minnie often illustrates how she views herself, an added visual aid of her emotions, detached from most of the adults around her who she offer her stability and guidance. And through her journey, he need for sex borders on nymphomania and drives her to other reckless behaviors, but she makes it through to the other side stronger.
Minnie is a girl who wants to feel that she appeals to the men around her, often exclaiming that she wants to feel the touch of a man just so she knows she exists. Minnie is simultaneously a child and a woman; existing and projecting her thoughts and feelings on that fine line. She is in a lot of ways, she is not only the voice of insecure girls on the brink of sexual revelations personified but also the older modern women who struggles to define of desires for men without have it define her as a woman. In all of her sexual escapades and misguided adventures Minnie doesn't play the victim but rather uses these experiences to empower her for the future.
James White
From the directing-producing team that brought you After School and Marcy Martha May Marlene comes James White. The titled character (Christopher Abbott) is a young man in his 20s who is simultaneously responsibility and irresponsibility, selfish and selfless. He is both trying to take command of his reality and escape from it, instances of recklessness bookending her scheduled times to be the one that others lean on or need. This duality of his nature is showcased beautifully in a film that will stay with you until the final moments.
James spends much of his time losing himself in alcohol, drugs, and the Manhattan club culture, as the film's opening suggests; the camera lingers close onto his face as he commands attention through the club, music booming, sweat pouring, unfocused eyes not really seeing anything. This time the partying make him late for his estranged, remarried father's shiva service at the home of his mother (Cynthia Nixon), an emotional overload that has James lashing out at strangers, friends, and relatives. He knows he is a screw-up, something that has damaged his relationship with her best friend Nick (Kid Cudi) in the past, a person in his life that constantly saves him from himself. His mother constantly blames him out and makes excuses for him, solidifying his mother's boy nature.
And when he discovers that his mother, the main guiding and loving force in his life is dying due to a cancer that has returned and reached Stage 4, James cycles through caring for her with such tenderness in her last days and trying to destroy himself from within. You see, he is in a constant state of emotional claustrophobia and only the wielding of his fists, the euphoria of drugs, promiscuous sex, or fits of powerful rage can give him hope of busting through we binds him.
James White is a very emotionally gripping piece of filmmaking yet with a masterful quiet control. The mother-son pair of Cynthia Nixon and Christopher Abbott shine here and will take to you a stark yet hopeful emotional place that is unforgettable.
The Bad
Nasty Baby
We starts off as a quirky, unconventional family drama takes a turn for the criminal (and the worse) in the film Nasty Baby from Chilean director Sebastian Silva. What we are left with is a two act film with distinctly different tones that when mashed together seem absurd, purposeless and without any discernible voice.
The setup is heartwarming enough for the modern age – a woman named Polly (Kristen Wiig) is desperate to have a baby. With no potential suitors in sight, she makes a pact with her gay artist best friend Freddy (Silva) to have a baby together. After countless tries at in vitro fertilization, Freddy's sperm is just not doing the job. And so Polly and Freddy conspire to talk Freddy's partner Mo (Tunde Adebimpe), the more reliable option over Freddy's younger brother, into fathering the baby. Between all the decisions and attempts to get pregnant, Freddy is working on a new, "nasty-baby" performance art show which incorporates videos of himself and others acting out all the cries and tantrums babies make (for him this is retribution for desiring to be a parent) and trying hard to avoid his nosey older gay neighbor while battling a loud, argumentative, mentally ill, homophobic one ("the Bishop" as he is called) who runs his leaf blower at 7am. When "the Bishop" randomness goes too far, it ends up deadly.
If this film sounds all over the place, it's because it is. It's often silly (Wiig and Silva at times so promise of great chemistry) and sweet (The relationship of the threesome shows signs of real care and affection) but the greater narrative is never defined, introducing characters with no real stakes in the film and creating situations with no consequences in sight.
Stockholm, Pennsylvania
You would think nothing could go wrong in creating this story as intense psychological drama spills from every word in the setup to the film Stockholm, Pennsylvania: A 20-something woman is returned to her family after been kidnapped in a park as a toddler only to have a hard time adjusting to the life she doesn't remember and a life in the outside world she was kept from. However, despite a good story and committed cast, the script often feels contrived and misguided in its focus. What should be compelling, feel stripped of life somehow.
Anyone would feel disoriented being taken from the home that you have known all your life (in this case the basement of a house with windows covered) and thirsted into a new one (above ground) with her parents (Marcy [Cynthia Nixon] and Glen Dargon [David Warshofsky]) who are virtually strangers to her. That's what happens to Leanne (Saoirse Ronan) who grow up not knowing she was kidnapped but rather "choosen" by her captor Ben McKay (Jason Isaacs). He is the only person knows, her care-giver. Leia, as she is named by Ben, comes to believe all the false stories he tells her to discourage her curiosity of what lies beyond those four walls, including that the world outside is gone (shown through flashback). Because of this, Leia is not equipped to take care of herself. When her parents try and gently and lovingly re-educate and re-introduce her to the real world, we see that she rejects this life in favor of the time she spent with Ben. Marcy, resentful of her connection with Ben even while he is in jail, goes to frighteningly extreme (and familiar) lengths to try and reconnect with her daughter; much as Ben has stripped away everyone and everything from Leia in order to cultivate a bond, so too does Marcy.
Everything in the film is meant to play on the idea of Stockholm Syndrome, where the captive develop feelings of sympathy and respect for their captors. However, enough time is not spent on examine the complex nature of this means of attachment of bonding. The script only circles this idea. One glimpse of what the film could have been resides in the scene where Leia sneaks out of the house to visit Ben in jail. Their whole exchange is written with vibrancy, anger, curiosity, and neediness; the closest the script ever comes to beautifully emphasizing the stark oppression of her circumstances. Sadly, these scenes are few and far between.
The Forgettable
Digging for Fire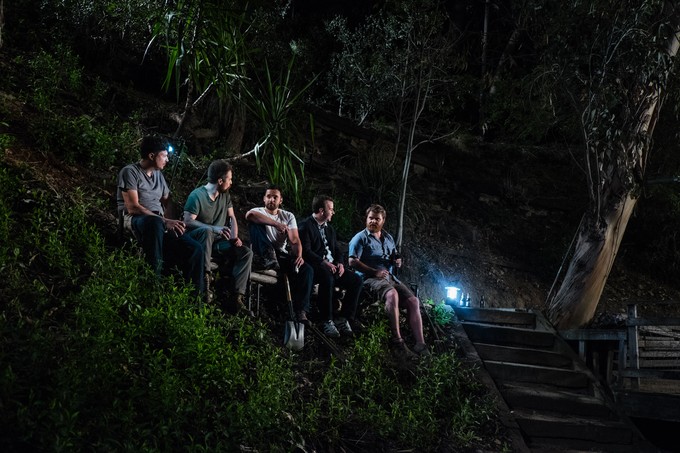 Digging for Fire, the latest from Joe Swanberg (co-written by Jake Johnson) seems to want to do two things – be an ensemble comedy, as many of Swanberg's films are, and be a grown-ups drama about the depths of commitment and keeping "the fire" going between a husband and wife. However, it does not commit to being funny or self-reflective or even particularly interesting, digging itself into a shallow, pedestrian hole.
The film's characters include slobby teacher Tim (Johnson) and hippie yoga instructor Lee (Rosemarie DeWitt), a married couple of with a young son (Swanberg's son Jude, who is starting to make an appearance in a number of papa Swanberg's films) who are housesitting for one of Lee's rich clients. Their life has become taking care of their son and adult responsibilities (like taxes!), not leaving much time for rediscovering each other or defining themselves as fascinating people. When Tim comes across a bone on a hill in the backyard, he becomes obsessed with the idea that there maybe a dead body buried in the ground. Lee is unimpressed.
When Lee rolls off to visit her parents for a few days, Tim invites old friends over for continual drinking and partying (Sam Rockwell and co.) and makes new ones in the process (Brie Larson, Anna Kendrick) who help him dig holes in the backyard. In the meantime, Lee, on a night out by her lonesome after unsuccessfully finding a friend to hang with, gets saved from a drunken guy by the quientenssential sweet guy (Olando Bloom). Long story short, Tim is tempted, Lee is tempted, but they ultimately mind their manners and come  This is all wrapped in supposed epiphanies about their life and marriage that is too dull to leave any kind of lasting impression.
Zipper
The problem with Zipper, the new film from director Mora Stephens starring Patrick Wilson, is that the motivation is not there; it's unclear what really motivated the lead character to slip into his addiction and sudden bouts of recklessness other than he is a lawyer/politician and it is therefore in their nature. So what we are left with is a collection of wayward actions with no psychological or philosophical depths. I ever knew sex addiction could be so bland.
Patrick Wilson is Sam Ellis, a prosecutor with political aspirations. He is an attractive, good ol' Southern boy with charm and supposed character that allows him to stay faithful to his wife (Lena Headey) even when an intern (Dianna Agron) tries to seduce him. Which is all the wonder that he is tempted to dive into the world of escorts after interviewing one as a witness on a case. What follows is an obsessive need to give all his money to escots and to bed one of the elusive girls from his site of choice all while navigating political connections and his marriage. The film unfortunately stands as a middling political sex drama which nothing to contribute to the genre. It's a bootleg Shame, without any clear cinematic explanation of intent, psychological motivation, or consequence.
—
What Sundance film has caught your attention? What films are you waiting to get released? Any from this list or outside of this list?
Written By Shala
Shala is a lover of films, especially independent cinema, and has carried this passion over to blogging, attending film festivals, connecting with film industry types, and (appropriately) stalking actors. Her favorite movie is "Memento" as she feels Christopher Nolan is a cinematic genius. Her love for Ryan Gosling has no bounds; she is still waiting for him to whisper "Hey Girl" in her ear.