We here at CineKatz have alittle more business with 2014 before we can give the new and upcoming films of 2015 our full attention. And that is, to present what I considered to be best films of 2014. To add to the lists of my fellow bloggers, here is what I think represent the best in film from the past year.
THE HONORABLE MENTIONS
The One I Love

A film that brilliantly experimented with the notion of how a couple sees each other…
The film's initial setup eludes to nothing out of the ordinary for a conventional romantic dramedy – an unhappy married couple – Ethan (Mark Duplass) and Sophie (Elizabeth Moss) – visits a therapist (Ted Dansen) with the hopes of working on what they have lost in their relationship. Sophie thinks Ethan's best self was in the past. Ethan is defensive in the comical way that men can get defensive. At the urging of their therapist, they drive to a nearby vacation home he recommends, swearing that couples just like them have found their way back to each other there. Yet, twists abound, playing up an inventive concept for how these two people confront their shortcomings, marital expectations, and often conflicting ideas on how they see each other. Moss is stellar as a conflicted wife; Duplass is funny as usual as an emotionally inept husband. Both give multi-faceted performances complete with natural improvisations that often called for each to delve into the other's genre. Pay special attention to the last few quiet, reflective moments of the film, when Duplass conveys with his face a gambit of emotions unlike anything I expected from him
I Origins
A film that used human experiences to delve into the opposition of faith and science…
For me, I Origins is an epic examination of the very real opposition between science and faith, evolution and intelligent design, and reincarnation and finite existence with an indie film spirit. The life goal of sullen, pensive molecular biology PhD student Ian (Michael Pitt) is to prove that the human eye has evolved over the centuries. You see, the lack of evidence on eye evolution is one of the main arguments religious theorists use to debunk evolution. Ian is the stereotypical scientist, a skeptic of all things unexplainable. However, when Ian meets and begins a passionate relationship with the younger, mysterious, free spirited Sofi, he is put on a path that extends nearly a decade that causes his rigid ideology to bend every so slightly and forces him to confront painful matters he had long since buried. I Origins asks its audience to remember that there is something grander than ourselves, not necessarily in the religious view but in the way that we are insignificant to the grand scheme of things. The beauty of the film is that it does not ask of the audience to choose a side; it just opens doors to possibilities through the journey of one person. The power in these films comes that both the skeptic and the believer have something more to think about.
Dear White People
A clever contemporary black film akin to 90s Spike Lee with a modern hipster edge…
Picture this. The lives of a small number of black students unfold on the campus of the fictitious, prominently white Ivy League college Winchester University, paralleling the present-day sampling of the current black to white US population, if you will. They are different in their views of post-civil rights era of black identity. There are the new generation of budding proud black militants, the black conformists to their white surroundings, the self-hating black students, blacks who know little about their culture, and the black student comfortable in their own skin. Even though they all have in common the influence, intelligence and opportunity to exist in this place as their white counterparts, they must contend racial presumptions and attitudes that blacks must contend with everyday other races. This is all dealt with in a smart and statical way, a valiant first offering from writer-director Justin Simien.
Dear White People offers a visual perspective into the inner and outer struggles of the black Y generation. It touches on the new ways they define themselves but also the threads of similarities to older generations regarding issues that continue to plague the community. While it doesn't alienate its white audience and gives them permission to laugh, the film humorously speaks more to its young black audience to say "you are more complex than that Tyler Perry movie makes you out to be". At times, you'll have to excuse some of its self-importance but its worth the experience and messages it provides.
On to my top 11 list…
11. Locke

A film that showcases the complexities of a man through a simple narrative of ethics…
It's only the audience and a Welch-accented Tom Hardy as he drives his BMW (product placement at its best) for about an hour and a half through the dark streets of Birmingham to London for a definitive reason, which becomes clearer to us as time goes on. It's enough to produce a gripping, all consuming tale of a construction manager who has made it his mission to pattern his life with control and responsibility and be everything his father wasn't; maybe obsessively so. When one mistake shatters the order he has fought so hard to create, he must point his car toward London and take a drive to try and set things right. And on this journey, he must talk to everyone in his life that depends on him from his wife and kids to his boss and subordinate to save both his personal and professional dignity.
The masterfulness of the film is how it crafts a sense of apprehension and aggravation, incoming phone calls more becoming more frequently and interrupting other calls as he constantly juggles urgent situations. He searches for solutions each new obstacle that arise, all while absorbing the hurt, stress, anger, and disappointment from these callers, feeding into his ever present isolation and alienation. It's a technical marvel of a movie, revealing the complexities of Locke inside and out through a simple narrative of ethics. And through all the madden drama, the film shows just how well written it is with a bit of surprising humor stemming from Locke's pedantic and flippant nature. Beginning with the first words Locke speaks ("This is Ivan. I got your message") to his last ("Yes"), an answer to a life-changing question, we can't look aways as we watch Locke's world fall down around him.
10. Selma
The civil rights era reflects the continued struggles of today…
In the wake of the #BlackLivesMatter movement and excessive force protests that are currently going on around the world, it goes without saying that this film is a relevant and timely one. Showin the beautiful human spirits lead by Martin Luther King Jr. (David Oyelowo in a determined, superb performance) who stood up, toiled, and came to shape the current freedoms of African American peoples. Director Ava DuVernay takes us on a dramatic, unflinching journey through the events of the famed Selma march, all the racist brutality, the political disappoints, the overwhelming triumphs, and the unity of humanity. Selma is a road-map of strategic thinking that is often missing from today quest for new liberties and inspires in you an aspiration to be the next great leader.
9. Obvious Child

A film that reminded us that comedy [and love] can be found in unlikely places…
All hail the rise of the witty, vulgar, female-centric comedy laced with just a dollop of sweet romance to raise a collective awww… While Bridesmaids follow the shenanigans of a sad-sack ex-bakery owner and a band of misfits leading up to a wedding, Obvious Child centers of a Jewish stand-up comedienne who makes a habit of not only using her life as material but also over-sharing to the point it embarrasses herself and those around her. This eventually gets her in trouble and leads to a painful breakup. To soothe her hurt feelings, she meets and has a one-night stand with Max (played adorably by Jake Lacy), a guy as "Christian as a Christmas tree" and against type in terms of guys she is usually into.  And from that one night comes an unplanned pregnancy and the ponderance of an eventual abortion. What could easily have come off controversial is tempered with vulnerability that comes from the evaluation of a life lived and unlived.  And throughout the film, we are treated with segments of stand up routines and Slate's on ad libs, which displays the beautiful art of comedic timing.

8. Belle
A moving portrait of a woman caught between racial and social positions…
Amma Asante's Belle encompasses a multi-faceted perspective of a person of that time who would have very few rights – a female in an extremely male dominant society and a Negro in an often unkind, racist community.  What makes her plight different is that she is of mixed race so her bloodline and subsequent family money and lack of necessity to marry puts her in contradiction her race and gender. While these blessings that allow her to move more easily in the world would make anyone else complacent, Belle reaches pivotal moments in her life when she becomes aware of how she is not completely removed from it all.
This is where we see Mbatha-Raw as Belle grows and matures with understanding of herself and the society she lives in – the deeper meaning of her family hiding her from prying eyes and sharp tongues, the realization of the rigidity of and social status, the unkind subtle emotional and mental abuse women had to endure – at first with quiet resignation and then with a fiery desire to be seen and heard.  And through this all, this wiser Belle comes to strengthen her familial relationships, giving her the courage to be an even bigger protector for her cousin Lady Elizabeth Murray (Sarah Gadon), to convey of feelings of not belonging with her great uncle Lord Mansfield (Tom Wilkinson), and to sympathize with the loneliness of her great aunt Lady Mary Murray (Penelope Wilton). Mbatha-Raw has a captivating and dignified awakening here, and it is lovely to watch.
7. Enemy

An arthouse thriller that gives you that skin crawling sensation…
Enemy hinders on suspense, be it a more trippy experience than you would think. Enemy centers on a complex relationship of the four main characters (but is there really four?), confounding their dark and moody story with Fight Club-esque psychology and unsettling surrealism. We come to met two, bearded Jake Gyllenhaals, identical in look but different in personality and lifestyle – a slubby, slack-wearing college history professor named Adam Bell who spends his days teaching various lessons on how history repeats itself and his nights grading papers in his dimly lit, barely furnished Toronto apartment only paying enough attention to his girlfriend (Mélanie Laurent) to have sex with her and the other, a swagger, a leather jacket wearing, motorcycle-riding D-list actor named Anthony Claire with a propensity to cheat on his pregnant wife (Sarah Gadon).
Throughout the whole film, the audience is left to decide whether Adam and Anthony are in fact the same person or whether there is some other explanation, whether each knows more than they are letting on, and how exactly the women in their lives, who disturbingly resemble each other, fit into the puzzle. Couple that with a mysterious, seedy underground club which the audience only catch glimpses of at the film's beginning of which may just hold all the answers to the film's last moments that will have you gasping and then wondering what you just witnessed.
6. The Imitation Game

A portrait of a man who made history and the people who drove him toward greatness…
Benedict Cumberbatch and Keira Knightley as real-life Alan Turing and Joan Clark are the remarkable duo that makes this film particularly sweet, moving, and an impressive piece of filmmaking. He was a socially inept, closeted, computer and math genius… and she, along with being brilliant herself, just "got" him. The Imitation Game is best when it examined Turing in regards to the relationships that shaped is life and then projected that upon his place in history instead of the other way around. Through it all we come to learn about a man who contributed to the betterment of all our lives through his efforts in WWII.
5. Gone Girl
A story that proved that persistence is the key to vindication spun into a thrilling black comedy…
It was the contemporary thriller novel by Gillian Flynn that shot its way up the New York Times Best Sellers list, sparked book clubs around the country, and caught the attention of director, David Fincher. A husband, an attractive yet emotionally inept man named Nick (Ben Affleck) finds that his wife, a brilliant, well put-together, "perfect" woman named Amy (Rosamund Pike), has vanished on their 5th wedding anniversary. The police suspects foul play, and soon, Nick is the lead suspect.  Gone Girl is the darkest of comedies, the most mesmerizing of dramas, and most intricate of mysteries. Fincher juices the source material, keeping the pulp and infusing his own fascination with the tense moodiness and violence that hides deep within a picture perfect existence. The key moments from the book are expertly presented, the right and wrong of actions a forever topic of discussion. In terms of acting performances, Gone Girl is Pike's show, who honeys her turned on American accent with rasp and turns in a stunning performance of a woman who is more multi-faceted than meets-the-eye. Neil Patrick Harris as Amy's ex-boyfriend Desi turns in a unique blend of charm and controlling eeriness that intrigues. Affleck really nails that awkward, unemotional husband thing, proving to me that his was the perfect Nick after all.
4. Starred Up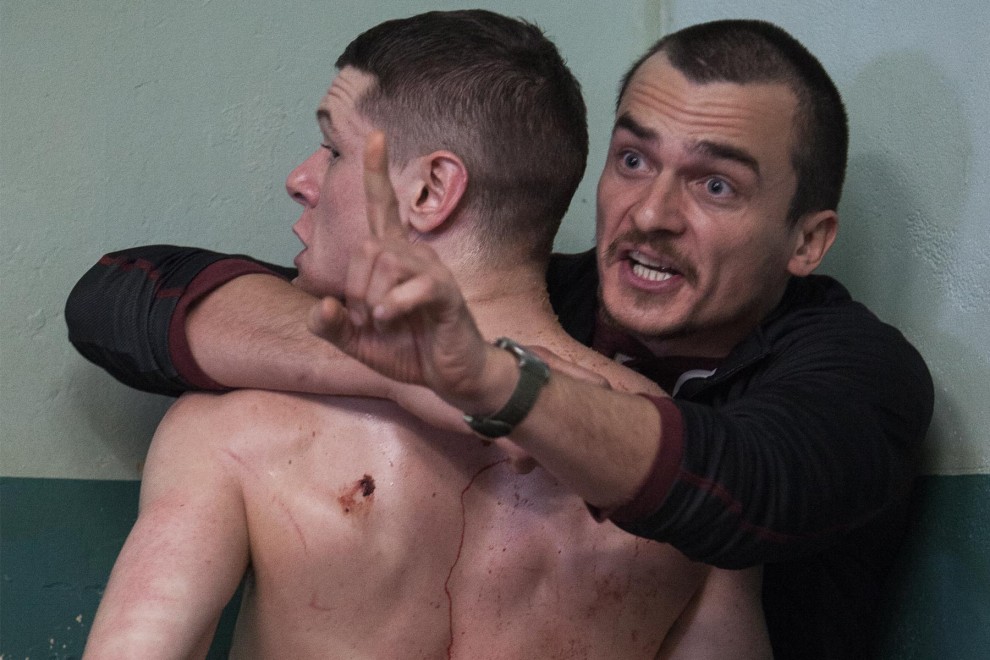 A prison drama and character study into cycles of violence and those lost to it…
A young 19-year old Eric (Jack O'Connell) has "starred up"; due to his increasing violent outbreaks he has been transferred from a juvenile detention center to a maximum security adult prison. Through the watchful gaze of a, counselor who tries to over his help (Rupert Friend) and his estranged father (Ben Mendelsohn), a long time prisoner, we are offered a compelling and often times brutal look into the fractured prison system, the lengths some will go to save or keep down poor souls lost to violence, and the continue search for humanity. There is genuine emotion to be had here due to the all out stellar performance from Jack O'Connell; he loses himself in the bulldog savagery of his character while never losing the grasp on hopefulness. We are all the best for having this film experience.
3. Nightcrawler
An film expose on the seedy, underground world of crime journalism and the equally seedy personalities drawn to it…
Here, Jake Gynllenhaal is a greasy-haired, dead-eyed, opportunistic cameraman with a sinister career ambition who takes on an unsuspecting, hapless flunky (Riz Ahmed) along for the ride to take all his deadly risks for him. With dark and pulpy humor, glimpses into the sick underbelly of Los Angeles, and the strategic anglings of the media, we are treated to a cast of characters willing to sell their soul, and often do, to make a name for themselves and get a shot in the name of "true" crime journalism. The script is brilliantly introspective for the times we live in.
2. Whiplash

A Black Swan story set in the jazz world…
This film is ultimately a story the destructive passion of music conservatory student named Andrew (Miles Teller) with an ambition to be a great jazz drummer. It's a well laid out tragedy of a young man who slowly sheds all his love ones in the quest for the mythos of notoriety and what he foolishly perceives as his best self. And becuase of this, he falls prey to a tyrannical jazz studio band leader (JK Simmons) who is known to verbally terrorize and emasculate his pupils all in the name of finding the greatness within. Whiplash excels because it spends time with the psychology behind the antagonism between Andrew and Terence, finding ways to justify their actions toward each other. The film is ultimately a two-man show; Teller showcases such an unrelenting savage intensity one minute and a reserved, distant quality the next that it is amazing to watch while Simmons intimidates every time he walks into a camera shot, carrying with him the fear of his words. Writer-director Damien Chazelle, a musician himself, crafts scene after scene to perfection, drawing attention to angles of the instruments doing play and modulating the pace of the films as only a person personally aquatinted with music could.
1. Birdman
A vibrant, unsettling, and tempoed look into a man's inner battle for relevancy and sanity…
Even from the trailer, I could tell that this film would be wholly colorful, widly imaginative, and intriguing, and I was right. Director Alejandro González Iñárritu fashions a genius satire of an aging actor named Riggan Thompson (Michael Keaton) falling into the pit of instanity while in his mind simultaneously interacts with (and often arguing with) his alter ego, the blockbuster, three-picture superhero Birdman, and searches for a way to prove his artistic worth in the acting community of the present, all while writing, directing, and starring in a play, an adaptation of Raymond Carver's short story "What We Talk About When We Talk About Love".
Alter egos and aging personas of the main play's cast (Naomi Watts, Edward Norton, Andrea Riseborough) collide in reality and fiction in just a few days in life of the play's opening. The dialogue of the play spills into and swirls into the lives of the actors and consequently lose themselves to it, emphasized by the carefully crafted long shots and continuous visuals of the film from onstage to backstage and back again. Riggin's interactions with all those people deem necessary, sometime nuances to actors, his agent (Zach Galifianakis), critics, and assistant (also his estranged daughter, played by Emma Stone) chip away at his "actor face" and deepen his insecurities in losing his place in the acting world. And in the background is a wonderfully maddening drum that keeps time with Riggan's state of mind. The little wink in regards to casting is brilliant. Keaton, the man made famous by playing Batman (who Birdman sounds an awful much like) who in himself is mounting a comeback very much like his character.  Birdman also has, hands down, the best ensemble cast of the year with a secondary film comeback with Edward Norton giving one of the best performances I have seen from him in a long time.
I'll be rooting for you at the Oscars, Birdman!
Written By Shala
Shala is a lover of films, especially independent cinema, and has carried this passion over to blogging, attending film festivals, connecting with film industry types, and (appropriately) stalking actors. Her favorite movie is "Memento" as she feels Christopher Nolan is a cinematic genius. Her love for Ryan Gosling has no bounds; she is still waiting for him to whisper "Hey Girl" in her ear.