"A man tries to hold on to his wife as she slowly dies of a stroke."
Directed By: Michael Haneke  Rating: PG-13, 127 min
I first met Michael Haneke – the filmmaker, not the person – in Dublin.  An independent theater close to my hostel was screening something called The White Ribbon and from what I understood, it took place in Germany around the time that WWI started kicking up dust in Europe.  I thought I was in for a war film.  I was incorrect.
I went to the film with my girlfriend at the time.  We watched about an hour and then there was an intermission.  We walked out of the theater and without excusing myself, I went alone to bathroom.  I washed my face and looked into the mirror.  After we'd reseated ourselves and finished the film, we sat in the stands silently for a while as the crowd filtered outside.  Neither of us said anything until we emerged onto the misty November streets of Dublin.
"I didn't really think much of it," I said, two streets away from the theater, feeling obliged to talk.
"Nothing much happened," she said, sounding relieved.
"I didn't like it."
We laughed about the pretentiousness of the film.  We went back to the hostel and made dinner.  Yet, weeks after I watched it, I could still find residual impressions of The White Ribbon, lingering like puddles on the familiar paths of my thoughts. Since that misty November evening in Dublin, I've come to regard Michael Haneke as a master of film.  Still to this day, at night, I think of the burning house and the villager's faces, pale and bright.  Or I think of the bird, lying crucified in the bottom of its cage.  No one can distill a sense of unease like Haneke can, one that long outlasts the duration of two hours.  He does not capture.  He creates and his workshop is your mind.
I was therefore surprised at my reluctance to watch Amour, which won the Palme d'Or and was recently lavished with award after award from multiple venues for best picture, best screenplay, and stands to win five Oscars.  It simply sounded too good to be true and the fanfare jarred disturbingly with the quiet sensibilities I've come to associate with Haneke's films.  Like a lot of great director's films, Haneke's films have come to occupy their own territory in my head.  For Spielberg, there's a glowing valley town in California, waiting for wonder.  Miyazaki left set adrift a floating castle somewhere in my thoughts.  Malick painted the very sky.  Haneke left a string of small villages across a bleak landscape, peopled with wind and menace.  I don't expect other people to know him.  But perhaps more than anything, I doubted that Haneke could pull the same trick on me twice and leave a poisonous spot in the tissue of my brain that would not out.  I thought I'd inoculated myself against his alchemy.  Again, Haneke proved me incorrect.
Amour begins with a twist on a locked room murder mystery, as firemen break into a room, sealed from the outside, that contains no more than a body.  The body, absent of a soul, presents a message as flat as a post card to the firemen.  But the effort that went in to sealing the body in the room raises a disturbing question: why lock Nothing in a room?  It seems absurd until you realize that Anne's empty corpse has, over the centuries, driven men in every land to build tombs since the misty beginnings of history.  In her lies the answer to the enigma of the pyramids that still lay moored in forgotten seas of sand.  This is love and this is death.
We then meet Georges and Anne in life, played by veteran actors Jean Louis Trintignant and Emmanuelle Riva.  On a seemingly random night, the camera captures them in a crowd from the stage of a theater as the lights dim and the crowd quiets.  A piano movement starts.  The men and women's faces wax serious and attentive.  We are watching an audience work out a meaning.  The next morning, during breakfast, Anne pauses during a conversation and does not resume it.  Georges thinks its a prank.  He turns on the faucet to dab Anne's face and then forgets to turn it off as he hurries down the hall to dress.  Anne comes back as Georges reenters the room.  She cannot explain why the faucet was on.  When Georges asks for an explanation, she grows angry and we understand that the conversation they were having will never be resumed.
On one hand, what follows in this film follows inevitably.  Each event throws the shadow of the next so cleanly that by the time you reach it, you've already seen it coming.  This an effect of Haneke's extraordinary filmmaking.  When, too, I consider the film retrospectively, I can see the narrative as clearly if it had been bored straight through.  Haneke achieves an unusual level of clarity in his films that leave in their viewers a sense of reality, perhaps the hyper reality we experience in photo realism.  He achieves this with a wealth of physical details.  His characters cannot skip frames.  Even in moments of panic, you can feel ripe seconds dropping as one character makes his way from this room to that.  The stark reality of Amour sometimes imbues everyday objects with the penumbra of the mystical.  Since no music plays in the background of reality, the silence fills with ghosts, and something as trivial as a lost pigeon becomes an omen for a journey into the afterlife.
After Anne suffers her stroke, we watch the bridge between her and reality deteriorate bit by bit, as she loses the ability to speak, and then as she withdraws into the womb of her memories.  The film wastes no pity on what is inevitable and neither does Anne, a character so sure of herself, and so dignified and self aware, that once she senses the end, she truncates her desire to continue living and floats away on the past.  Death, for Anne, is a choice between slowly losing her dignity in the failing battle to keep her feeble grip on reality, or quickly making peace with her life.  In other words, she has a choice between two kinds of losses and in both Georges is at stake because the death will strand him in a present that has no future.  At different points in the film I did not like Anne or Georges.  Anne abandons Georges to preserve her autonomy.  Georges won't let Anne go, even when she demands to be let go.  Half way through the film, I realized that I had trouble liking both of them because I liked each of them, alone, so much.  Its hard to watch such noble characters be humbled again and again by an uncaring force.
To ask pity for these characters is to insult their dignity.  Anne and Georges demand as much patience and understanding from us as they demand of each other because all of us will take their place one day on the brink of death.  We'll be both lucky and misfortunate to have with us someone we love. But while Haneke never approaches anything like pity, he does share sympathy with his characters, especially Georges, as Anna slips away.  Georges makes increasingly desperate attempts to bring Anne back to their shared world, bartering her life on the currency of her dignity, freedom and his own sanity.  While Anne quickly recoils from the indignities of dodging mortality, Georges attempts to keep her where he's used to her: at his side, at any cost. Sometimes Georges makes decisions that are cruel.  Some of his actions border on the inhumane and one was honestly shocking in its fierceness and selflessness.  But what choice does he have?  If Anna dies, so must he.  Love is the sharing of the fundamentally singular subjective experience: they are each the other's only audience.  One disappears without the other.  In this light, much of Georges's cruelty and Anna's indifference makes sense, and indeed, much of the world's cruelty and indifference makes sense.  If Georges considers Anne's life so important he would trap her in his body, its because he has not yet accepted he must die and her leaving will drag him too into death.
At some point I realized how human these people were.  Every bit of their lives have merged together, like a tree at the roots.  Anne, at the beginning of the film makes a comment about a book that bothered me.  She tells Georges not to watch how she holds the book when he's tending to her.  I realize now, she was trying futilely, to separate them so he could live on, an audience to himself.  This is love in Haneke's world, love without a glitter of sentiment about it.  In the choice to love someone, we decide our own doom.
I won't ruin anything by telling you that at the end of the film Death leaves us in much the same place as Georges: a spectator to a life he once shared in the performance of.  Anne's body becomes the stage where a dwindling circus of memories flickers and dies and Georges, like all men who loved and lost before him, is faced with both an empty stage and an empty audience that days before had been full, waxing serious and attentive.  We know Anne will die.  The firemen have already found the end and the answer at the beginning of the film: the body in repose, an empty stage and an empty audience.  But this is why men have built tombs – not to house the bodies, but because the audience to a life knows a secret.  In the room that is empty, there was once something there.
The Good, the Bad, the Ugly and Everything In-Between: Haneke offers us this privilege.  He opens a keyhole in the door of death to see what was there, shared in a life between two people.  No more and no less.
My Score: 9.5/10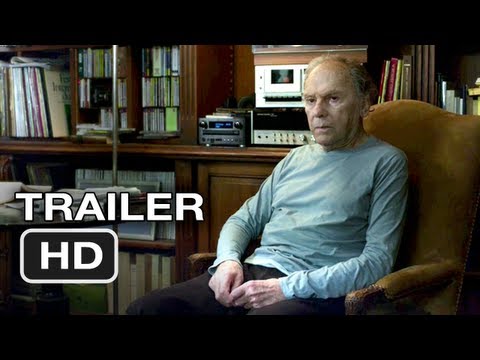 Michael is an avid writer, recluse, one-time vagabond, beer-brewer, and reluctant bartender in the vast No-where flats of Ohio. When not working on his short stories, you can find him in his room watching movies, or ignoring everyone in public with his face in a book and a beer in his hand. He graduated with degrees in writing and philosophy and plans this fall to move on to the University of Virginia, to pursue his MFA in fiction. He'll gladly sit down with you and a beer to discuss a film.