From time to time I struggle to remember what it was like to travel.  I find brief flashes of it everywhere, the way noon light leaves pins of phosphorous lying around in the corners of window -  a fragmentary feeling of the way sunlight bowed over my shoulders, walking up a cliff side, the vision of a girl I met on a train suspended in the cheekbone of a woman who I'm serving lunch to.  I'll bite into food that isn't there and then taste my normal dinner a second later and wonder where my cheese and olives went.  This last St. Patti's day, I was cleaning up puke from a bar floor and it hit me that this time, last year, I woke up in a shepherd's field.
A compact but fierce and loyal uproar about Before Midnight brought to my attention the brilliant "Before" trilogy written and directed by Richard Linklater.  The first film of his series (written in part by Kim Krizan) never caught my eye for a reason I couldn't put my finger on until I realized that I wanted nothing to do with a movie about travel.  I think most people who have wandered hold their memories of travel secret.  You can hold those memories up to the light as often as you want, but like a bottle of fine wine, you can only really open them once and once you do you have to drink them quickly, because they decay in the open air.  And like good wine, you despair sharing it with people you don't like.  Bad company ruins good wine and so travelers don't like to talk about where they've been to people they don't know.  You don't hand a stranger a mint coin unless you want their fingerprints cheapening the surface.  So much for my unease about swapping stories with Richard Linklater.
As soon as Before Sunrise began though, I could smell other countries as if a bottle of air from somewhere else had been uncorked.  I could taste the dust in the air and feel the shudder of the train.  Linklater distills the experience of travel, of being a young man or woman sitting on a train, staring at the structure of possibilities, waiting to shift or tip something so that a ruby falls into your ragged lap.
The movie begins on this train, where good travel takes place, with two such people.  Jesse and Celine are returning from two different cities to their normal lives – she to Paris as a student at Sorbonne, he to Vienna to take a flight home to the U.S.  A mixture of accident and curiosity leads them into a conversation.  They talk about parents and love and death and this is mainly how the whole movie goes, as they move closer and closer to understanding one another, discussing their uncertain philosophies on what might matter and what they might dismiss just a moment later.  The future terrifies them, makes them timid and brave all at once, serious and whimsical.
Jesse makes a deal with Celine: she gets off the train with him in Vienna so they can spend the day together.  She'll be answering a "what if" for herself when she wonders in the future, what would have happened if she'd chosen someone else.  They will be each other's "someone else".
His brave question stirs something in her and they get off the train, placing their fragile time uncertainly in each other's hands.  They talk and walk around Vienna, at once emboldened and intimidated by the thought that the person next to them is a stranger.  They look back at the past and see a garden of mistakes with uncertain paths leading out. Both can find so many faults in themselves and yet it must be possible to outrun your faults, or overcome them.  An experiment of the heart takes place in Vienna, a place at once familiar and always the same: in a new city, with a new person, will they make the same mistakes they made before?  We like to think a stranger is no one, that we have no stakes in them.  We could disclose our hearts to them and never meet them again.  Yet, strangers terrify and tempt us for the answers they might have for our untested questions about ourselves. Having no previous stake in them, we hand them everything or nothing, we ignore them or risk our salvation on them.
I'd compare meeting Jesse and Celine with watching a video of the play you did in high school.  Yet it is a delight for how real and raw it feels to see yourself, a little younger, a little less polished but all the brighter for it.  Any guy would recognize a younger version of themselves in Jesse (except Jesse, of course), the kid who sits off to the side with a half amused smile on his face, sprawled indifferently across a bench, a book open in front of him, watching, observing what he doesn't belong to.  He waits for a chance to make a joke to a stranger, to prove his usefulness.  With Celine, he plays a cynic of impressive depth but really he's a hopeless romantic who has no faith in the brand of magic he's a magician of.  In one scene, a fortune teller comes up to their table and fills Celine's palm with hopeful prophecies.  Of Jesse, she says simply "He's learning," which he mistakes for dismissal. When she retires, Jesse takes Celine's palm to fill it with bitter mockeries where before it had held delicate visions of the future.  Celine withdraws her hand as if he'd scalded her.
Celine finds herself in the uncomfortable position of modern women, struggling against what she doesn't necessarily hate in order to preserve her dignity.  She has wounded people before and choses rather to wound and fear herself.  As they continually inspire each other into acts of bravery small enough to fit in a wine bottle, Celine blooms like a dark flower.  She makes brave decisions when Jesse grows afraid and in one honestly heart warming scene, reassures him by pretending to communicate over the phone with her friend.
The final character of course is Vienna.  A strange city to them, Vienna knows both Jesse and Celine because it has known a billion lovers before.  As they walk through the city, it guides them with kind poets and mystics and men who dress as cows, with a little alcohol and a smile full of chipped teeth.
Moments of the film are so fragile I can barely breathe watching them.  So much is at stake as you, Jesse, Celine and all of Vienna wonder why they should risk hurting themselves, why not let a stranger remain a stranger?  In one unforgettable moment, they listen to a record in a sound booth and steal glances at each other then turn away, trying to think of a way to pass through air that was once thin and now thick and unnavigable.  The moment was so intimate I could feel their breath on my neck.
In another scene, after the pivotal moment of the fortune teller, when they see their worst fears in each other, Jesse tells Celine a story about Quaker weddings in a church.  Quakers get married by staring at each other.  He stares at Celine and she looks away.  Jesse then tells a story about a man he defrauded.  I could go on, but would it be pointless, because the movie is made of moments like these, moments so elemental and personal I felt raw watching them, like someone had filmed a conversation I'd had in the past and played it out in front of me with actors.
While at times slow, the conversations between Jesse and Celine will have you riveted, clenching your chair arms as they navigate their doubts, mistakes, assumptions and arrogances on the way to love.  It's one of the few movies that does travel right, too, which puts it in a category of its own.  Watch this movie if you want to watch what travel can be: a love letter to a stranger.
The Good: Dialogue so clean and sharp that the entire movie swings around a conversation between two people in love.
The Bad: There's not much.  A few slow moments, but there's not much to say here.
The Best: The closest experience to travel you can get, while never leaving your couch.
Overall: 8.5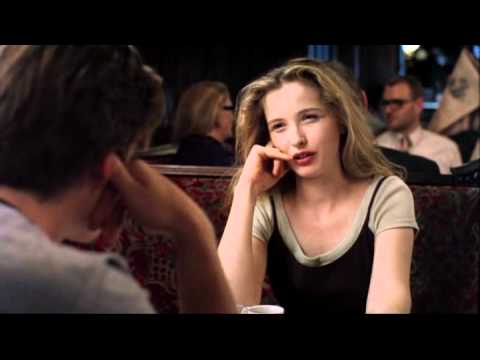 Michael is an avid writer, recluse, one-time vagabond, beer-brewer, and reluctant bartender in the vast No-where flats of Ohio. When not working on his short stories, you can find him in his room watching movies, or ignoring everyone in public with his face in a book and a beer in his hand. He graduated with degrees in writing and philosophy and plans this fall to move on to the University of Virginia, to pursue his MFA in fiction. He'll gladly sit down with you and a beer to discuss a film.