"A documentary on peer-to-peer bullying in schools across America."
Directed by: Lee Hirsch, Rated: PG-13, 98 minutes
As I have stated in past reviews, documentaries are always a bit difficult to review without including your own opinion on the subject at hand. With Bully, the controversial documentary about the toll bullying takes on the youth in America, it's hard to bite my tongue. A formerly bullied kid myself (I know, hard to believe since I'm so f**king awesome these days), the film hit close to home for me but does very little to remedy the situation. Sure, bullying is something that always has and always will exist, but when you continue to film a young kid being beaten up on a bus without stepping in, I have to call you out for being a terrible human being. While I understand the purpose of the documentary is to show real footage of real bullying, you're a piss poor person if the integrity of a documentary overrules your ability to stop something horrible. In short, Bully feels like a paparazzo's attempt to gain something (money, fame, attention) off of someone else's pain, and it's something I can't quite stand behind.
Bully opens up with the heart-breaking story of Tyler Long, a young boy who after years of being bullied, hangs himself in his parent's closet. Right off of the bat we lay witness to the end result (and consequence) of long-term bullying and are immediately made aware of how terrible things can be for not only the victim, but for his or her family, friends, and community. The Longs share their story throughout the course of the film and we see their work on a national level, aiming to end bullying in schools. Then the attention turns to Alex, an awkward teenage who has struggled to fit in his entire life. We follow Alex throughout a school year and see only a handful of his encounters with his bullies, be it at school, on the bus, or even at the corner waiting for his hell ride to school. We see him called names, stabbed with pencils, strangled, and pushed around. It's hard to watch and of course, inexcusable, yet the cameras continue to roll. At home, his parents are aware that he's a bit different than the rest of the kids and he keeps quiet. It's only after they are shown footage of what goes on do they get (a little) more vocal about the matter. I can only imagine the delicate dance a parent must do when it comes to discussing bullying, as they want to encourage confidence while giving their support, but the families of all the victims (minus the ones that have already passed) are very… ineffective in their ways about handling the situation.
We also see Alex's school principal and her own struggles at fighting the epidemic. Unfortunately, each scene with her inclusion only adds to the frustration as she comes across as inept and powerless. Many of the situations showed to us show her having minimal concern for the victim and is more of an advocate of overall peace than protecting a specific individual. Conversations with the principal, counselors, and other parents (in town hall meetings) only continue to add to your frustrations, and while many are clear advocates of anti-bullying ideas, none of them seem to do anything about it until a child is lost. I understand that bullying is something that's as hard to talk about as it is to diagnosis and remedy, but the effort put forth by the majority of the film's adults is inadequate. There's also plenty of fault put in the hands of the filmmakers of Bully. The film shows the first-hand experiences of those getting bullied and the consequences of kids pushed too far, but it never comes up with a solution or even a suggestion to a fix. The way the entire documentary is put together also leaves us with only the smallest bit of urgency to go out and do something and instead leaves us angry and annoyed with what goes on without any real outlet for change. I know I can't demand a documentary to present a problem and then feed us a solution, but Bully leaves a sour taste in your mouth and leaves you feeling a little dirty.
The Good:
a look at the reality of bullying
The Bad:
standing by and watching everything play out, wondering why the film-makers wouldn't step in and stop it from happening
The Ugly:
knowing the film will have very little impact on the bullying epidemic, even if it jump starts a conversation all of us have put off far too long
Overall: 6.8/10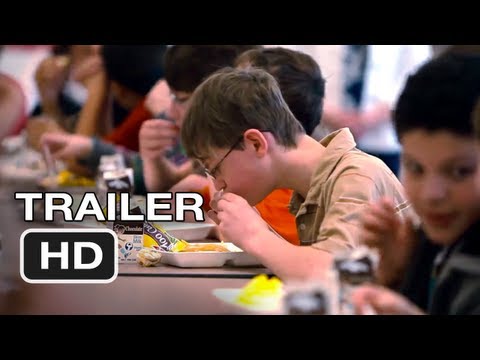 I feel terrible for kids like Alex and I can relate to his situation more than I'd like to admit. However, my stance on bullying is all over the place. It's something people need to realize they will never be able to stop entirely, and instead, must figure out a way to ease the pain and give out worthwhile punishments to those dishing out the damage. The expression, "kids will be kids" always comes to mind, and carries its own weight in the argument, but there should be steps initiated to prevent the excess bullying we see from the internet, cell phones, and more. Bullying happens in many more places than the playground or classroom, and once teachers, counselors, and other authority figures realize that their own gentle reach must go further than their routine school days, we may have a better tackle on the issue. Along with better awareness, we also need to continue to let those being bullied know that it really is just a phase. Sure, it's an absolutely miserable situation to be stuck in, and there's a lot of pain that comes both emotionally and physically, but things do get better.
Watching Bully made me look back on my own life and the harder times I had when I was bullied, and made me wonder if I had the ability to, would I go back and change things? A part of me would take a quick trip back and give a few of my own bullies a kick in the ass, but had it all been changed entirely, I don't know if I would be the person I am today. I was talking to a good friend about this issue, and he mentioned that the most charismatic people he knows were once long-time sufferers of bullying. And I really believe that. Those of us who can make it through these bullied years come out a lot stronger than others, be it the actual bullies or even the peers that didn't stand up for us. In all honesty, I'm not ashamed that I was bullied or even embarrassed by the fact. I have come to terms with it and know that it's a part of my life that has helped mold me into who I am today and without that darkness in the past, who knows what kind of person I would be today.
Not to sound cliche, but to those of you who get pushed around, called names, and teased, it does get better. It gets a whole lot better. And if you can make it through those tough years, you can look back with a smile on your face and say "Fuck you" to those who hurt you. You survived. You made it. Welcome to the future.
Written By Nick
Nick is a man obsessed with all things related to film. From the most obscure to the very popular, he's seen it all and hopes to one day turn his obsession into a career that makes a lot of money so he can buy a monkey, a bulldog, and a full size Batman suit.