"The affair between a politician and a ballerina is affected by mysterious forces keeping the lovers apart."
Directed by: George Nolfi, Rated: PG-13, 106 minutes
Philip K. Dick is an author that was taken away from us way too soon. Dying when he was just 53, the man left behind a ton of stories (novels and short) that have since become a go-to source for sci-fi movies. We can only imagine what other ideas the man would have had if he didn't so so young (yes, 53 isn't "young", but you get my point). Luckily we still have his work to look at and find inspiration. With The Adjustment Bureau, a film based off his short story, "Adjustment Team", we are again reminded of his creativity and sensationalism that made him such a great writer. Unfortunately, the idea behind the story and the film are the strongest parts about the movie, and overall, it lacks any of the punch you'd expect in a dramatic tale. Sure, the man wrote science fiction, but I'm almost positive he was able to craft a more solid story than what came out of this adaptation. While the film is far from bad, you're left wanting more. And that's more about more depth to the story, not wanting to revisit the world that's been created (see Minority Report, Total Recall).
Matt Damon stars as David Norris, an up-and-coming politician who is running for the New York senate. He seemingly has the election in the bag, but an unfortunate revelation of a prank he pulled in college comes to light, costing him the senate seat. As he's writing his concession speech in the men's bathroom, the beautiful Elise (Emily Blunt), stumbles out of one of the stalls. In his moment of weakness, David connects with Elise and the two immediately hit it off. Unfortunately for the couple, their relationship was never meant to be, and a team of hat-sporting men, known as the Adjustment Bureau, warn David that if he continue to seeks a romance with Elise, both of their destinies will drastically change and going of the course of their fates will only cause a disastrous ripple effect. David begrudgingly agrees that he won't pursue something with Elise, but after another chance encounter three years later rekindles his feelings, he decides he'll do whatever it takes to have her be a part of his life. Thus, together, the two must figure out a way to rewrite their own destinies and prove to the Bureau's boss, "The Chairman", that their love is meant to be.
The above synopsis makes the film sound a bit less interesting than it really is. The idea behind the Bureau is incredibly unique and takes what many believe as part of particular religions, and injects with a bit of science fiction to keep it fresh. The way the Bureau Men travel as well is really cool, as depending on which way they turn a door knob, they'll pop up in a different place instantly. The catch is, they can only fast-travel with their Bureau-appointed hats, which can range from fedoras, police hats, or even a Yankees cap.  It's a little detail that gives these 'men' a greater power than regular humans, and seeing how they work, or adjust, is really interesting. Unfortunately, the film strays away from giving us too much information about these men, and the mysterious shroud surrounding them is never lifted. Sure, we're teased a bit more come the end of the movie, but their intentions and responsibilities are swept under the rug, almost immediately, to focus on the relationship between David and Elise.
While this isn't terrible, as Damon and Blunt have amazing chemistry together, you're really hoping for The Adjustment Bureau to be more about the sci-fi factors and not the romance. We know that these two people are in love and the film does a good job at building up that relationship, but the dance between the two genre elements leaves you a little disappointed. The movie never knows quite where to go with itself, and just as you're drawn into the love story, the tables shift and you're now watching a chase film. In this jumping around, the story loses a lot of its heft and you slowly lose any concern you have for the characters. You want them to be together, yes, but by the incredibly rushed conclusion, you're not feeling as though they came out with a victory. Never is a larger battle posed between a man and a greater power (or good vs. evil), and any conflicts that David runs into are almost immediately remedied by the one Bureau Man who apparently has a heart- Harry (Anthony Mackie). The movie also has an over-abundance of celebrity news anchor cameos, in an obvious effort to make it all feel more "real", but this are only very, very distracting. They take you out of the story and are almost farcical in their appearance. Even the supporting cast, especially in John Slattery (Mad Men), come and go whenever they please, and you're left wondering when and if they'll even return.
Luckily, The Adjustment Bureau is saved by its two leads in Damon and Blunt. As I mentioned, they work wonders together and you never doubt there is love between the two. Damon is as charming as ever, and his David character is far from what you'd get from the man in real life. He's smart, charismatic, very involved in politics, and loyal to his closest friends. With Blunt, she's gorgeous and equally charming. She plays a ballerina and the sophistication and playfulness you assume in such a profession come out in full force with Blunt. She's professional with a streak of flair and you can't help but fall in love with her. She lights up the screen every moment she's on and seeing Damon bask in that light is a joy to watch. I would love to see the two re-team for a more straight forward romantic story as they clearly seem to belong together. Their realism in their relationship elevates the film to something much better than the script allows and makes The Adjustment Bureau worthwhile. I should add that this is the debut film of writer/director George Nolfi. Unfortunately, I feel the man got in a little too deep for his own good and was carried much more by the natural talent of Damon and Blunt more than anything. Either way, Nolfi has a good eye when it comes to the camerawork and if he returns to the helm of another film, I would like to see him direct material that he has not written. Call me harsh, but the man still has to prove himself to me. Overall, The Adjustment Bureau is a movie with great ideas, incredible acting, but lacks a solid and consistent script that keeps it from being a little masterpiece.
The Good:
Damon and Blunt perfectly playing their respective characters and bringing something remarkable to the relationship that unfolds between them
The Bad:
An inconsistent plot leaves you a tad disappointed and confused
The Ugly:
An ending that is incredibly rushed and comes out of nowhere, as though Nolfi and crew ran out of money or something
Overall: 7.2/10
Trailer: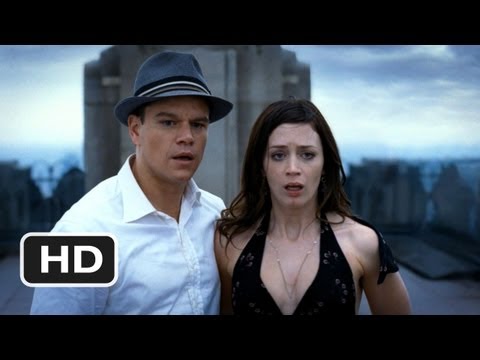 Written By Nick
Nick is a man obsessed with all things related to film. From the most obscure to the very popular, he's seen it all and hopes to one day turn his obsession into a career that makes a lot of money so he can buy a monkey, a bulldog, and a full size Batman suit.