Is there anyone cooler in Hollywood than Joseph Gordon-Levitt? The child actor turned hot commodity has become the poster boy for success, juggling independent passion projects (Mysterious Skin, Brick) and bigger blockbusters (Looper, The Dark Knight Rises), while running hitRECord, a community of artists using open collaborations for inspiration. On top of that, every girl wants to be with him and every guy wants to either be him, or at least hang out with him. Needless to say, he's had one hell of a career and has worked his ass off for nearly two decades. His latest effort is Don Jon, a film he not only stars in but also wrote and directed. While it's far from perfect, it's one hell of a directorial debut. So I decided to break down The Good, The Bad and, of course, The Porn of Don Jon. It's a film that blends drama, comedy, romance, and more as it tells the story of a man, his family, his women, and his addiction to erotica.
The Man Himself
It should be worth noting that Joseph Gordon-Levitt is an actor first and a director second. And quite frankly, that's how it will always be. There's just a charm about him that you rarely find in young actors these days and his presence alone elevates anything he touches to an entirely different level. He's suave without being a dick, he's cool without bragging about it, and he's one of the only few guys who could get Scarlett Johansson and not have you feel immense hatred towards him. With Don Jon, he's firing at all cylinders while challenging himself to go places that he hasn't gone before. He's still the likable kid we all love, but he's a rather layered and severely flawed character. He's a family man with every good intention for himself, but the fact that he's completely ignorant to his obsessive addiction still shows us his immaturity. Joseph Gordon-Levitt tiptoes the line between nice guy and pervert very well, and it's his talent alone that makes Jon a more likable character than you'd ever expect.
The Energy
When you spin a story about a man addicted to porn, it's hard to do so without coming across as all sorts of creepy. Yet, Don Jon never falters in that regard and a large reason for that is because it's packed full of an energy that's almost contagious. Immediately after the film begins, we're thrown into Jon's (Joseph Gordon-Levitt) world, where he breaks down everything he cares about in his life- his body, his pad, his ride, his family, his church, his boys, his girls and, of course, his porn. We're introduced to these things with a rhythm that carries throughout the rest of the film, giving Don Jon a stylish beat. The quick cuts, the repetition of several themes and scenes, and the confidence JGL exudes as both an actor and director bring the film to life.
The Little Details
A large part of the success of Don Jon is the fact that it really feels genuine. The characters, the setting, and how certain people react to certain situations feel real. Jon, for instance, is your sterotypical guido-like player who finds himself balancing time between visiting with his family, watching porn, and hooking up with as many ladies as possible while hanging with his friends in the clubs. Accents and attitudes aside, Joseph Gordon-Levitt shows us moments you'd never expect to see in a film, given their usual mundane-ness or triviality. For instance, there's a scene where Jon is using the restroom, something hardly ever seen on film, and as he's leaving, the paper towel dispenser is out of paper towels and he has to dry his hands on his pants. Keep in mind, this is not a "joke" aimed at Jon's bad luck (which he really never has), instead it's a moment added for the sake of making it all feel more real. While I may be stretching this a bit, I really feel moments like these were included for a reason.
The Danza
19 years ago Tony Danza starred in Angels in the Outfield, a movie that arguably started the career of one Joseph Gordon-Levitt. Since then, Danza hasn't seen much screen time, almost fading into the bowels of Hollywood history forever. Leave it to the young JGL to cast him in his directorial debut to remind us that the man still has the talent and the legs to earn more high profile roles. Danza plays Jon Sr., and does so with the charisma and charm you'd always find in the actor, but slightly aged and a bit more chauvinistic. That being said, each of his appearances is filled with some of the film's best humorous moments. The only unfortunate part of Danza's role is that it's much smaller than you'd hope for and once Don Jon ends, you wish you had just one more scene with Jon Sr., all because Danza is really that good.
The Cliches
Unfortunately for Don Jon, in it's attempts to be everything a romantic comedy is not, it still cannot escape the cliches of the genre. It's still the formulaic, guy meets girl, guy falls in love with girl, and guy does whatever it takes to make girl love him back. We have seen it over and over and although Don Jon twists the formula around a bit, it's still all too familiar. The film also suffers from a few minor (and sneaky) cliches, such as Jon's stereotypical "best friends" who exist only to tell Jon he's either right or wrong, and an underused Brie Larson, who obsessively types away on her phone throughout the movie, only to break her silence for an obvious piece of advice. It's hard to hold these factors against Don Jon as a whole, but it's a testament that no matter how explicit the story is, when you have your feet in the rom-com pool, it's hard to get out dry.
The ScarJo (Minor Spoilers)
First off, I have to say that Scarlett Johansson gives one hell of a performance in Don Jon. She aces the role of the spoiled Long Island brat who thinks she's entitled to everything from everyone. She pulls off the make-up heavy, gum-snapping character of Barbara brilliantly but, in the process, makes you like her less because of how big of a bitch she really is in the film. So, kudos to Joseph Gordon-Levitt for writing the role and Scarjo for playing it, but damn them for making someone many see as one of the most attractive people in the world as nothing more than a dirty little Jersey whore who is just as obsessed with romantic comedies as Jon is with porn. It's unhealthy, woman!
The End
In The Good above, I mention the rhythm of Don Jon and how it gives plenty of energy to the film. Unfortunately, about three quarters into the film, that rhythm slows down drastically and almost comes to a complete stop. The final ten minutes or so are all over the place, feeling rushed and much more incomplete than the rest of the film. Luckily, the overall message of the conclusion as well as the final character change we witness in Jon does not go missing, but it still feels like it needed a little more polish and a little more substance. Clocking in at a mere 90 minutes, Don Jon would have been a much stronger film had the third act been given another fifteen minutes. However, maybe its abrupt ending could be symbolic of those many wasted climaxes at the center of Jon's addiction, sitting in front of a computer screen throwing tissues into the waste basket.
Don Jon really had no bits that would fall under The Ugly, but it certainly made up for that with the massive amounts of porn included in the film. As the audience, we watch what's on Jon's computer and phone screens with almost as much detail as he sees, but with the camera pointed up just the slightest. It's hard to argue that porn in a movie is a bad thing, and in Don Jon it really isn't that out of place. Joseph Gordon-Levitt uses it to tell his story, cutting between sex scenes and porn videos to show comparisons and detailing each hardcore video to showcase Jon's addiction. And hell, when you're making a movie about porn addiction, you have to show the porn. So a ballsy choice doing what you did JGL. I'm sure PornHub appreciates you. As a bonus (kind of?), if you stay for the credits, you can see the long list of pornstars that appeared in the film. At least the man gives credit where it's due.
So what's the best way to describe how I feel after seeing Don Jon? Oddly enough, it's proud. There comes, every so often, an actor you genuinely care about, and seeing him or her do well, open doors, and try new things tends to leave you with that proud feeling. And while Don Jon made me feel plenty of other things as well, I can't help but smile knowing Joseph Gordon-Levitt is just getting started. Not unlike Ben Affleck's debut with Gone Baby Gone, Joseph Gordon-Levitt is a man getting behind a camera who's all too familiar with being in front of one. He knows how to direct, he knows his actors, he knows his locations, and he knows how to make a damn good movie. I cannot wait to see what he comes out with next.
Final Thoughts: Don Jon is a porn movie that doesn't leave you feeling dirty in the end. It's full of strong performances, especially from Joseph Gordon-Levitt, Scarlett Johansson, and Tony Danza, and makes you super excited at the prospect of JGL's directorial career. It's a worthy debut full of charm, intelligence, and so much confidence. A weak (ish) third act reminds us that JGL is an amateur in storytelling, but it doesn't take away from the value of the film, or its ambition.
Overall: 7.7/10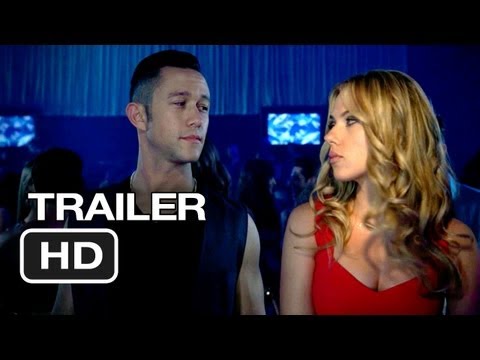 Written By Nick
Nick is a man obsessed with all things related to film. From the most obscure to the very popular, he's seen it all and hopes to one day turn his obsession into a career that makes a lot of money so he can buy a monkey, a bulldog, and a full size Batman suit.