"A couple undergo a procedure to erase each other from their memories when their relationship turns sour, but it is only through the process of loss that they discover what they had to begin with."
Directed by: Michel Gondry Rated: R, 108 mins
This post was originally written by Page. Find her @PageMarieH
I don't know how this film slipped by me in 2004, but when I came across it a few years later in a movie store, I was intrigued by the concept – a couple that undergoes a procedure that erases people from your mind. I wanted to see which direction it took. Plus, I enjoy Jim Carrey's serious roles, and I don't think you can ever go wrong with Kate Winslet. So I bought the movie, went home and watched it, and so should you.
The film opens with Joel Barish (Jim Carrey) meeting Clementine Kruczynski (Kate Winselet) on a train. She is blunt, wacky-haired and loud-mouthed, and I was immediately struck by Winselt's ability to play her so perfectly. A mixture of foul language tough girl attitude and also heart breaking vulnerability, her indubitable natural beauty is clothed in brightly colored unflattering garments and she truly is Clementine. It is a character and a performance not easily forgotten.
Carrey is equally impressive, especially in the more raw and emotional scenes. Joel is flawed and real, like Clementine, though his demeanor is more quiet and timid. Joel and Clementine are polar opposites that happen to fit perfectly together and Carrey and Winslet truly make them feel alive and real on screen. It's a welcome change from Carrey's over-the-top comedy roles and I would venture to say based on this film alone his drama skills are equal to (if not greater than) his comedic dexterity. Eternal Sunshine isn't all drama, though. There are indeed moments and entire scenes that are very funny, and serve to make the film's overall melancholy tone feel a little bit lighter.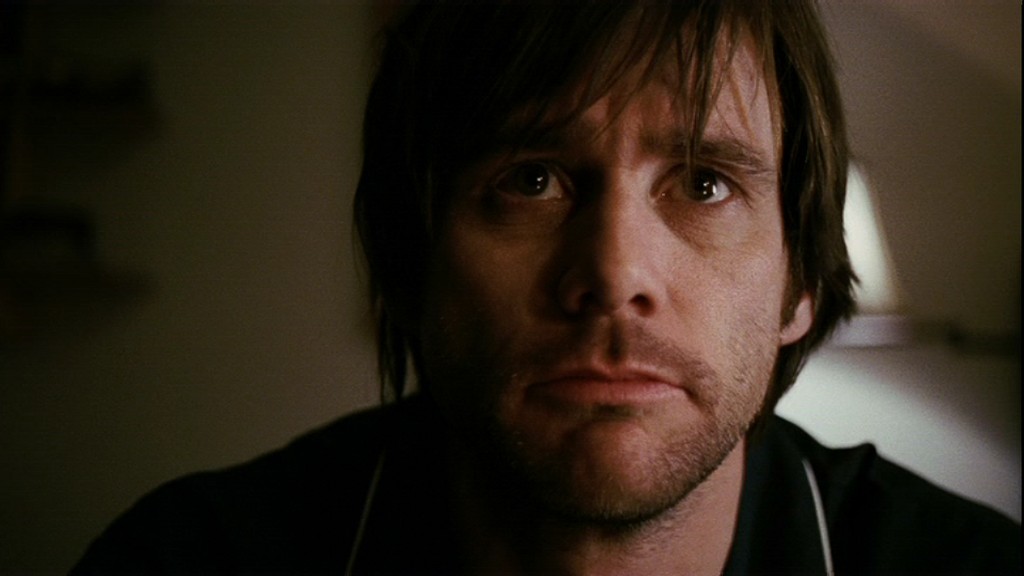 Carrey and Winslet definitely carry the film, but there are some surprising and well done supporting characters that I enjoyed watching. Patrick (Elijah Wood), Stan (Mark Ruffalo), Mary (Kirsten Dunst), and Dr. Mierzwiak (Tom Wilkinson) are all employees of Lacuna Inc., the company that wipes away memories. Their characters are also flawed yet authentic and a little weird. In various ways, they are all involved in a subplot that echoes the overall theme of the film and makes you ask yourself; would you want to forget someone forever? Could you let go of the good memories as well as the bad? And, more importantly, would forgetting them leave you better off, worse, or exactly the same?
The cinematography of Eternal Sunshine is beautifully done. It's shot in such a way that you feel like you're there in the room with the characters, a part of the story. It is very realistic, perhaps even bordering gritty at times. And yet the memories and the process of destroying them look and feel quite surreal. It's as contradictory as the characters and the story itself. The lighting varies greatly from memory to memory, each time evoking a specific tone and emotion connected to that memory. The film plays like a strange dream that you slip in and out of, lines are blurred and thoughts, even entire characters, are fragmented. All of that, coupled with the nonlinear story line that miraculously comes through without being confusing, creates one truly extraordinary film. The entire process must have required unimaginable planning and vision and it shows.
Eternal Sunshine of the Spotless Mind is a unique and tender story and a beautifully done film. It's an indie film that stars A-list actors who give stellar performances. It will make you laugh, think, question, and laugh again. It's one of those films that gets better over time and truly stands out among typical Hollywood fare. It is one of my all time favorite films and if you haven't seen it yet, you're missing out.
Overall: 9.0/10
Written By Nick
Nick is a man obsessed with all things related to film. From the most obscure to the very popular, he's seen it all and hopes to one day turn his obsession into a career that makes a lot of money so he can buy a monkey, a bulldog, and a full size Batman suit.