"Over the course of a day, a man is taken through a strange odyssey across Paris, assuming various roles as an assassin, a father, a musician, and a beggar."
Directed by: Leo Carax   Not Rated 115 min.
A movie in some ways represents a search for meaning. In the simplest formula, characters encounter a problem, search for a solution and the audience takes a meaning away from that. However, some films, not content with simple answers, continue to search for meaning outside of the world their characters live in, in our own world, and in the relationship between audience and film. Movies like Adaptation, Being John Malkovich, and Synecdoche New York body forth into something more than a movie in order to tell us something about movies themselves, about the limitations of media, the conundrums of story, their hopes and desires, their purposes and failures. When you watch them, it feels like you're facing a real person, something self aware, aware of you, and wearing a half cynical smile on their face. You want to tell yourself that the relationship runs one way only, the comfortable way, from audience to film. However, films like these stare back at you with a smile on their face that calls simplicity into doubt.
When film and audience conspire together to make meaning, they share a relationship like two mirrors directed at one another to create an infinite number of rooms. The question is what is illusion and where is the real story happening? Leo Carax attempts one of these tricky feats of silver screen magic in order to discover the precise location of "Story" in his much lauded film Holy Motors. Though it passed over most regular theaters, the film warmed a number of critics to a healthy boil and won itself several laurels of ivy. Having waited for this film for so long, intrigued by its visual style and what people say, and now after weeks of saving it for just the right day to watch it, I'm sorely disappointed. I approached this film winking to myself saying "surely it can't be good as people say it is" and believing it would be better, in fact. Maybe it would revolutionize me, I thought. Not so. Holy Motors does perform the trick of making its "Story". disappear. Unfortunately, over the course of its magic trick, it not only vanishes the rabbit, it vanishes the stage and the props, the curtain and the theater – everything except for the magician and his audience. In the end, when there's no magic show at all, we're left to wonder if he can be called a magician.
I have a hard time describing what this film is about, but since Leos Carax didn't intend to explain it either, I have no problem leaving it vague. The movie takes place over the course of a day in which M. Oscar is driven around Paris in a limousine full of costumes by his mysterious assistant Celine to accomplish various missions as an old woman, an assassin, a father, a musician, and a crazy man. In his first role, he stands in the street and begs, feeling lonely. In his second, he puts on a suit that transcribes human movement into movements of computer characters, demonstrating martial arts before dry humping a woman in another motion suit. Carax artfully balances discomfort with sheer beauty but he never intends to give his clay the breath of a narrative. None of the roles M. Oscar takes on do more than tap the narrative a couple inches further along. The roles of M. Oscar are dark materials that intend, briefly, then return to formlessness soon after he gives them up.
I wish I liked Holy Motors more than I did. I say that sincerely, because the film has incredible elements that add up to a sum less than the individual parts. Indeed, Carax orchestrated this strange equation of meaning so that you would ask if it is nothing, when it was so beautiful arriving there. All the actors in Holy Motors put on stunning performances. What they performed, I still couldn't tell you but some of the acting in the film actually had me riveted in the way that only good stage acting does, when you face a player through a fourth wall that isn't real. I felt human presence. I'm thinking now of Celine – an incredible idea for character who comes the closest to being fully formed – and Oscar's incarnation as a father. Some of the stories that M. Oscar leaps into had such power that they planted wild seeds of imagination in me. As the film went on, I couldn't help but picture how this story would build and end – for instance, Oscar's stint as an assassin, or his second to last meeting. But Carax prunes his lush garden of stories before it grows. He means to keep it a riot of imaginary forces without form and echoes without voices.
Holy Motors possesses a beauty it shares with one of its characters – a silent model who Oscar must save form a shoot in the graveyard. We are given no explanation for why she doesn't speak, or why she accepts being preyed upon by an obsessive public. So too Holy Motors flaunts a wordless visual style as distinctively strange its own right, and yet cohesive as Pan's Labyrinth or The Fall. It takes place in a mythical Paris, a Paris of secret back room factory studios wallpapered with trees and rain filled underground parking lots. Men don't die when you shoot them. Black dogs stalk movie theater crowds. Despite its stunning visuals though, I can't say that the movie means anything.
As Oscar's missions wear him down and sadness and isolation reach him, I feel in one way I can understand him. Oscar wants a life of beauty so he leaves the monotonous act of living in straight lines. He acts in these desultory, symbolic ways. People in this movie live alone, understood only by themselves, and wear masks to meet the masks they live with at home. The only way to reach out to other human beings is to meet in agreed upon roles, two strangers, but now a dying uncle and a grieving niece. Their understanding rests on an illusion but it is still there, just as a movie connects with audience on an illusion of reality. The only two people to really reach an understanding are Oscar and Celine, in the end. Celine became a figure of comfort for me. The movie left me with a bleak, heartless feeling and Celine, because she felt real, guided me through it. Eventually you learn that Oscar does long for a real life with a steady pulse of meaning but that it was taken from him at some point. The film though, doesn't dwell on this for very long and I think it did itself a disservice by avoiding a central narrative. It feels no need to explain. By refusing to accept its own story as anything more than an illusion, the movie becomes as much of a stranger to its audience as the people in it are to each other.
Holy Motors has some beautiful bones to it, but no story ever stirs in its ribcage and nothing gains much of a life beyond the screen except for a frame of questions. Only this remains, like the square of dust a picture frame leaves when its taken down from the wall. I won't rant against this film because I didn't hate it. It left me as indifferent as a screensaver might and while I enjoyed the visuals, and at several times found my imagination running wild with a role that Oscar takes, the story never germinated and the movie never became anything more than a jumping off point for questions. The movie tells the tale of a distrust of story, or of story interrupted. It comes to its audience with empty hands and asks what they can offer. It shows us that we live lives of many faces, that we wear masks when we go home, that in our most beautiful moments we long to be ourselves and that perhaps every day we dream of a hundred impossible things that come to no consequence because eventually they are acts and insubstantial.
At a certain point, I found myself admiring Holy Motors when I forgot what film was. Looked at from this angle, Holy Motors addresses issues not as a film but something like a question voiced in visual effects. At one point, Oscar's boss arrives without explanation in the limousine to question M. Oscar, noting that he looks very tired, and while everyone enjoys watching him go on, the man wonders why he does it anymore. For beauty, M. Oscar answers. "They say beauty is in the eye of the beholder," his boss replies, rubbing wearily at a scar on his face. "What if there is no beholder?" Oscar asks. The film is an act of beauty simply for the act itself, a celebration like a hanging firework, dazzling groundlessly. But after the fireworks are over, I wonder what we celebrated in the first place. Perhaps Lavant means to ask what empty narratives, what wordless quests for beauty, what unexplained violences fill our own lives. The film hovers on the precipice of an answer it never gives, that recognition, or love, gives meaning to the absurdity of the film just as love and a private audience give meaning to the absurd feelings and actions we contemplate every day. Love would straighten the crooked and endless questions. It doesn't give an answer though. It is beholden to its own absurdity and its form, which is an enigma and not a narrative. A narrative takes us far from where we started to bring us back to the place it began, now understanding. An enigma always remains inconclusive.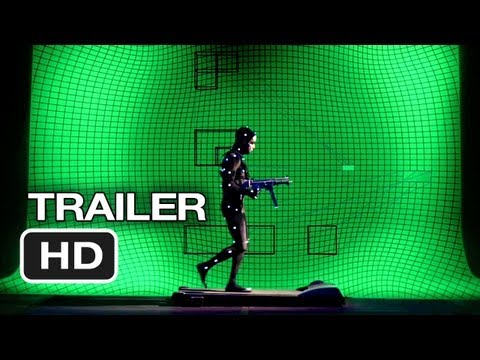 The Bottom Line: Holy Motors is a visualized question. While it provokes thought, may stun and dare and awe, it doesn't make for a good movie. In the end, I realized that to critique this piece properly, I'd have to write out all my thoughts and leave them in an empty room. Instead, I'll be obvious and publish them here.
My Rating: 3.2/10
Michael is an avid writer, recluse, one-time vagabond, beer-brewer, and reluctant bartender in the vast No-where flats of Ohio. When not working on his short stories, you can find him in his room watching movies, or ignoring everyone in public with his face in a book and a beer in his hand. He graduated with degrees in writing and philosophy and plans this fall to move on to the University of Virginia, to pursue his MFA in fiction. He'll gladly sit down with you and a beer to discuss a film.