Available on Netflix Streaming,  Rated:  TV-14,  7 Episodes
In Ricky Gervais's various projects he has portrayed multiple variations of the lewd, crude, rude maladroits that many people have encountered throughout their own lives.  Whether it's David Brent from The Office, Andy Millman from Extras, or even Gervais as himself on The Ricky Gervais Show, none of his characters are all that endearing or pleasant, until now.  In Gervais's latest project, Derek, Ricky takes a step away from his bread and butter to bring to light a warm, honest, lovable character, in who few people could find an issue.
Derek follows the titular Derek Noakes and the staff of the Broad Hill nursing home, as they interact with the residents, go on day trips and interact with each other.  Derek's friends include Hannah the manager (Kerry Godliman), caretaker Dougie (Karl Pilkington) and Kev (David Earl), Dougie's friend who just sort of hangs out at the home.
The driving theme of the show is kindness is the key to happiness, which is just what the show is, kind.  Although shot in the now tiresome mockumentary style of storytelling, Derek does establish some new ground by having Derek talk to the film crew on occasion, at times inquiring if he is really on Secret Millionaire.  These interactions, along with his genteel nature, naivete, love of animals and physical tics, lead some to believe there is a mental deficiency of some sort with Derek.  While he and his friends avoid the questions and get defensive when others inquire about whether he has autism, no mention of any condition is revealed.  The perception of having autism or another mental disorder has sparked some controversy with viewers, mostly prior to Derek's initial release in The United Kingdom earlier this year (so technically this is not a Netflix "Original"), due to the belief that Gervais was making fun of handicapped people.  Gervais himself has stated that there is nothing mentally wrong with Derek, he is just a really nice guy.  After the first episode aired, many saw that Gervais has handled Derek with care and he does not come off as the joke people thought he would be.
Finding myself getting tired of Gervais's shtick, prior to watching Derek, it was refreshing to see that there is none of the vitriol or maliciousness typically found in a Ricky Gervais production.  Derek is, in essence, portrayed quite well as an odd fellow who truly loves everyone and has no agenda in his actions.  Much of the charm from this show comes from the performance of Kerry Godliman, as Hannah.  Godliman plays the overworked, harried Hannah with a sincerity that is rarely seen in comedies.  Whether if it's trying to figure out if of one of the resident's relatives is gay (she likes him), or playing vigilant sentinel to a dying resident, Godliman makes Hannah truly believable and at times heartbreaking.
While Derek himself is kind, there is still some cheekiness behind Gervais's scripts, most notably in his casting of friend Karl Pilkington as Dougie the care taker.  For those familiar with The Ricky Gervais Show or Idiot Abroad, Gervais is none too kind to Pilkington, often goofing on his beliefs or thoughts on various topics. Dougie is portrayed as a curmudgeon who is not inclined to provide the care in his care taking, but does have a soft spot for Derek.  Dougie is also bald with long hair on his sides and wears glasses he took from a resident who died.  Pilkington does a fine job as Dougie, often spouting his beliefs on various topics, much the way Karl does in real life, but is quick to defend anyone who puts down any of his friends.  He is also adept at handling the wrestling moves Gervais is prone to put on him during the course of the series.
As an offset to the over-saturated kindness the show projects, is the character of Kev.  Kev doesn't work at the home, he just hangs out there all day because he doesn't have a job and has nothing else to do.  Often providing the lewd and crude behavior typically reserved for Gervais's character, Kev gets to be the bad guy, as he is constantly drunk, writes bad words on crabs at the beach, and gets upset that his Duran Duran play doesn't go as he hoped.  There are some redemptive qualities to Kev, or else he wouldn't be on the show, because again, the show is about being nice.
There are many tender moments on the show, many of which focus on the residents of the home, as they interact with family members or the staff and reminisce about their youth.  Aside from being about how kindness can change lives, it is also a peek into the world of how the elderly are treated and are essentially forgotten.  While some residents have loving family members visit, some have greedy children only visiting to stake claim to valuable belongings, leaving Derek and Hannah as the only ones who really care about them.
Derek, however, is not without its faults. at times the show drifts into patches of dullness, as Gervais seems more interested in character study than story telling.  In an attempt to heighten the more dramatic moments, ambient piano music plays and comes across as cloying and distracting.  There are a few places it is effectively employed, but for the most part seems to be used to do the job of a missing piece of dialogue or camera shot.
Despite its flaws, Derek is a solid effort from everyone involved.  Gervais shows range, not just in the types of characters he plays, but in his ability to act.  Kerry Godliman is a revelation as Hannah and will hopefully receive more screen time in the second season or at least recognition from the awards shows, for her performance.  Hopefully the second season will focus more on all of the characters, instead of relying on the constant plaudits for Derek and his unflappable good nature, in every episode.  While the show is titled Derek, my fingers are crossed that it becomes about more than just that.
The Good:  Kerry Godliman. Ricky Gervais, Karl Pilkington
The Bad:  The almost constant adulation for Derek
The Ugly:  The ambient music
 Overall:  7.9/10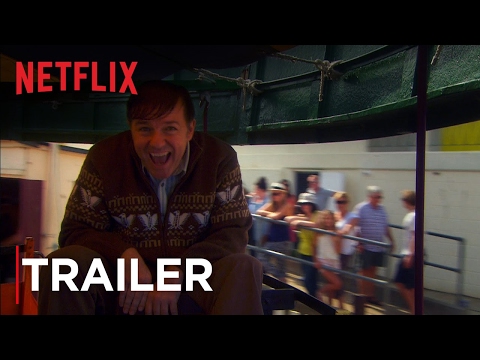 Written By Nate
Nate is a loner, Dottie. A rebel. When not slaving away for the man, Nate can be found at his local movie theater watching movies or taking naps, always hoping for that rare private screening. Nate spends his time at home scouring Netflix for the latest and greatest in streaming movies and when his two cats let him, he creates reviews for friends and family on Facebook for all the movies they will probably never see. Excited to be contributing to Cinekatz, Nate can finally look at his wall, where his stolen diploma used to hang, and feel like he is finally putting his Journalism degree to some good use.