Netflix has garnered plenty of attention these days with the multiple Emmy nominations for its original drama House of Cards and the rebooted Arrested Development.  Its latest show Orange Is The New Black has garnered many positive reviews and has already begun filming its second season.  With these feathers in their cap, Netflix could easily call it a year and focus on these quality shows, but no, they have more coming down the pike in the coming months, as well as updates to its site and streaming catalog.  This week we'll take a look at all the shiny new (in some cases returning) features to Netflix.
New (Returning) Releases
If you're jonesing for the final season of Breaking Bad, but haven't quite caught up on the previous seasons, Netflix has recently made Season 5 Part One available for streaming.  The award winning drama kicks off its final season on August 11th, so be sure to catch up quickly on these 8 episodes before diving into the final 8 episodes on AMC.
After making a brief appearance in April, The James Bond collection is now back on Netflix.  Whether you love Connery, Moore, Brosnan or even Dalton and Lazenby, all of the old Bonds are present.  Make sure to catch these movie classics before they disappear again.
Adding to the available John Hughes titles already available, The Breakfast Club is now streaming.  This iconic portrait of 80′s teen angst, starring Molly Ringwald, Emilio Estevez, Judd Nelson, Anthony Michael Hall and Ally Sheedy, casts these Brat Packers as a group of high school students forced to spend a day in Saturday detention.  The film not only features a great soundtrack, but captures what it is like to be a student in high school.
New Original Content
The next bullet in the chamber of Netflix's original content gun is the Ricky Gervais vehicle, Derek.  Gervais, as the titular star, has created another mockumentary  in the style of The Office, according to Entertainment Weekly.  Derek, which follows a the caretaker of an old age home, also stars Gervais' friend and star of An Idiot Abroad, Karl Pilkington.  The show premieres on September 12th.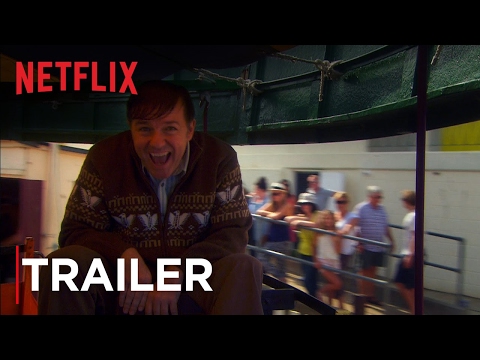 New Site Feature
Fully understanding that many accounts on its site are families with multiple watchers, Netflix has created a new Profiles feature which allows up to five profiles to be created under one account.  Each profile is customizable to the user's preferences, including favorites, recommended selections as well as a personal queue for each profile.  This new feature will come at no extra charge to its users and is available now.  When users log in they will be prompted to set up these profiles and after the profiles are established, the next time users log in they will be prompted to select their individual profiles.
This is a great idea, as each viewer has his or her own personal tastes and having suggestions catered to ones specific interests, as well as having a personalized queue without having to scroll through countless titles someone else has saved is a great time saver..  Netflix seems to be listening to more  of its customer base and has hit a solid double with this new feature.
Written By Nate
Nate is a loner, Dottie. A rebel. When not slaving away for the man, Nate can be found at his local movie theater watching movies or taking naps, always hoping for that rare private screening. Nate spends his time at home scouring Netflix for the latest and greatest in streaming movies and when his two cats let him, he creates reviews for friends and family on Facebook for all the movies they will probably never see. Excited to be contributing to Cinekatz, Nate can finally look at his wall, where his stolen diploma used to hang, and feel like he is finally putting his Journalism degree to some good use.