While I'm not going to spoil this film, I am going to talk openly about the Abrams' reboot.
The first thing you should know about me is that while I am a nerd, I am not a Trekkie. I've seen all the films, except for Insurrection – which I'd swallow glass before seeing given the critical panning it got – and I've seen handfuls of scattered episodes of the original series and The Next Generation. I love Star Trek, but I've never been *in* love with it all for reasons I'm not going to go into, but suffice to say, the reason I bring that up is so you understand that I am approaching this review from the perspective of someone who is not a Star Trek purist or even a "fan" but a movie critic who just happens to really love sci-fi and action. That probably means that I'm not too different from you.
The second thing you should know about me is that while I have invested large amounts of time criticizing the 2009 Abrams reboot Star Trek, I do actually stand by it as a good movie. It has an allergic Kirk's giant fistful of problems – such as the Maverick-Iceman relationship between Kirk & Spock, the fact that Nero was sitting in front of that black hole twiddling his thumbs for a quarter of a century waiting for Spock to show up when no one, not even his own shipmates thought to suggest that they all just move on and go home to Romulus now that they had transported back in time, the fact that Kirk actually DOES cheat on the Kobayashi Maru which thoroughly misses the point of putting that there in the first place, and the fact that the second act of the film is a massive string of coincidences that introduce him to Old Spock and Scotty who all just happen to be close-by on the remote ice world that New Spock marooned Kirk on – but it can all be forgiven because it still presents itself very well, a good proportion of the cast brings their A-game. Zachary Quinto is a terrific Spock, Zoe Saldana is a gorgeous Uhura, Simon Pegg brings on the humor as Scotty, and Karl Urban nails yet another awesome role sent his way as Bones McCoy. Chris Pine takes a while to settle into the role of Kirk, but his entrance into the Enterprise at the end of the film while still wearing that ridiculous mustard colored shirt, was solid gold.
But the best quality of Star Trek, bar none, is the potential it created. The Star Trek film franchise has had more than a few flops and the fact that the new one was such a fun movie that not only paid its respects while very intently diverging from the established canon by way of asserting itself as an alternate reality, but it probably generated a whole new batch of would-be Star Trek fans belonging to a younger generation that likely, before seeing the film, took one look at the monolithic franchise, said, "…nah," and then watched Firefly instead.
I never reviewed the first film, but if I did, I'd probably give it a solid 8/10.
Into Darkness is J.J. Abrams' first truly bad film, as it is both a bad Star Trek film, and a bad sci-fi action film.
Some time has passed since the events of the reboot and the film opens up with crew of the Enterprise on a daring mission to save the primitive species of a planet from an exploding volcano all while keeping the ship itself hidden from them in order to not disrupt their evolution. That mission doesn't go according to plan but is ultimately a success and when the problematic part of that mission comes back to bite Kirk in the rear, he is reprimanded by Starfleet Command. Then a rogue agent named John Harrison (Benedict Cumberbatch) starts blowing up London, with one attack in particular that hits Starfleet (and Kirk in particular) very close to home. Reluctantly, Kirk is sent on an unofficial mission to Kronos (the misspelled Klingon homeworld) where Harrison is hiding to take him down. But Kirk is soon to find out that both Harrison and the mission itself are not what they seem.
If all this sounds familiar to you, it's because you've probably seen that movie before; it's called Skyfall.
But, okay: Kirk being forced to improvise on a dangerous mission that could start an intergalactic war if it all goes wrong; worse stories have been told.
The problem is in execution. After Kirk predictably does his unpredictable thing with Harrison, the plot takes a predictable turn, and then the movie goes bananas. There is an effort to branch a few threads out and then bring them all together again before the big climax, but it can't seem to do that. John Harrison is the ultimate warrior with brains like Spock and brawn like the Goliath – this, as well as the events behind his aim for blood, as well as the implications beyond that are explained to us in full. Colonel Marcus gets a beefed up role but his motivations and actions are barely explored in any way. There's a relevant secret project right outside Jupiter that is completely unguarded. And the climax itself is utterly underwhelming (more on that in a bit) and ought to make anyone who doesn't suffer from logical incomprehensibility or short term memory loss feel genuinely insulted.
The Enterprise gets the whole gang back with the addition of Alice Eve as Carol "Wallace" – the hot new science officer who has a second of bare skin that the trailer shamelessly sticks in your face. Her presence on the ship is also utterly contrived. And while the actors all bring their A-game again none of them, not even Cumberbatch can make this lazy script work. It has its share of jokes and references (and one big scene copied from one of the better Star Trek movies with a twist), all of which I'll concede are clever, but there's no depth beneath it. The closest thing I can infer for an explanation as to why the film is called "Into Darkness" is because there are a few monologues about Spock's relationship with emotion in the face of death which is characterized by his blank expression when platonic affection is sent his way and his near death experience in the beginning of the film. With the exception of Kirk, Spock, and Harrison, screen time for interactions between the other characters feels sorely lacking.
Even worse, in trying to top the big action scenes of the first film, Into Darkness gets sloppy with the racing camera and over-editing of the shootouts making the chaos more forced than real. In trying to ramp up its own intensity and adrenaline level, the film shows characters sprinting across great distances in single shots (very much like the last two Mission Impossible movies that Abrams' directed & produced respectively), and one of those big sprints happens in the last big action scene that is supposed to be a climactic showdown but kneecaps itself by comparison, given that it happens just shortly after a bigger and legitimately crazier action scene that took place in space!
What I hated the most about Into Darkness is the ending. It seems that Abrams, Kurtzman, & co. aren't content with just ripping off better movies in a substantially below average sequel. They have to rip off the movie they themselves made four years ago.
With all that said, I should not say that this movie is entirely unsalvageable. There were a lot of avenues where the writers could have stopped the story growth, taken a deep breath, and then committed to it. Benedict Cumberbatch is pretty much just as awesome in the film as the trailer made him out to be and I'd almost recommend the film just for his performance, even though his character is written like a grasshopper of what he should be. The first fifteen minutes are like a really great mini-episode of a Star Trek show. There's a really great scene where two people are jettisoned into space through a debris field. And it's also nice to see Peter Weller get some work even if his talents are wasted.
Unfortunately, that's about all I can say on its behalf. Into Darkness is bad both for Trekkies and non-Trekkies, and my worries for Abrams' role as the director of the upcoming seventh episode of Star Wars are now compounded.
The Good: Benedict Cumberbatch, the beginning, the human space flight, and the acting in general. It seems that both time and experience have made Pine a better Kirk. Also, like the first film, it's nice to see that the Enterprise look like the big ship that it really is.
The Bad: The characterizations of Harrison, Marcus, and Carol, the blatant rip offs of other films and general lack of creativity, the lame attempts at raising the stakes through cheap tricks, the predictability of unfolding events, and the underwhelming final battle.
The Ugly: The mess of a plot that not even the good actors can save, the sloppy stringing together of events, the lack of logic involving some of the twists, the overblown explanations of character motivations all in single scenes that dull the pacing, and the ending.
Overall: 4.4/10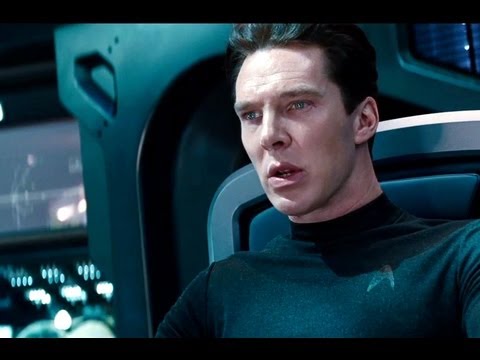 Vivek is a handsome, talented, well-spoken political aficionado and part-time film critic who totally never ever writes mini-bios about himself.
Follow him on Twitter @VerverkS or check out his blog V for Verbatim.