In Hollywood, there be two brothers auteur,
Directors of exploits of grindhouse grandeur.
Low budget half-jokes,
That make us all choke,
On popcorn with laughter for sure.
Robert Rodriguez is one of these great men,
Created "Machete" in 2010,
Star Danny Trejo,
Ain't no pendejo,
I'd probably score it an eight out of ten.
Now, in the present, we have us a sequel,
But the first "Machete" doth have no equal,
"Machete Kills" does begin,
With a space trailer akin,
"Machete Kills Again In Space": the threequel.
A mission that goes disastrously wrong,
Machete is hanged by a stool and rope long,
A phone call on screen,
By President Sheen,
Saves him, but it's moot 'cause his neck was too strong.
Sent on a mission to kill a crazy guy,
Hooked up with his handler – a super hot spy,
Smokin' Amber Heard,
But the sex was blurred,
We barely got anything more than a thigh.
That's already a problem that knocks the flick,
T&A is absent and the plot's too quick,
Characters change heart,
At the pace of a dart,
And no, I wouldn't call this a mere nitpick.
Then again, it's a Rodriguez endeavor,
Shoot, stab, & slice first, and ask questions never,
There's fun to be had,
But the film's pretty bad,
Trejo's Machete is still pretty clever.
To reach his target, he visits a whorehouse,
And engages in a game of cat & mouse,
The queen hates all males,
On him she assails,
With a machine gun rack, her venom espoused.
Target is a schizoid who can't be deterred,
Tied a nuke to his chest and killed his best nerd,
From there it's 24,
Nothing you haven't seen before,
And without spoiling, Miss Gaga comes third.
Machete don't text and Machete don't tweet,
Maybe wait an hour to watch after you eat,
There's nothing quite as king,
As the intestinal swing,
Some stunts here and there, though, are pretty damn sweet.
Side characters from the first have less to do,
Adding more left and right like stuffing a shoe,
Alba's history,
But M-Rod's girl "Shé",
Saw her network grow and primed it for a coup.
Alexa Vega is in it for a while,
The girl that Rodriguez walked right down the aisle,
That spy kid grew up,
Now with sizable cups,
Now if only I could have seen her cute smile.
Last, but not least, there's Mel Gibson's Voz,
Psychic space nut with no care for laws,
The villain bona-fide,
Is what the film decides,
By this point it's, y'know, just because.
So to sum it all up, "Machete Kills" isn't great,
But it's tough to despise given R-Rod's good trait,
And years down the line,
If the third turns out fine,
This limerick will be known as V's best one to date.
Overall: 5.8/10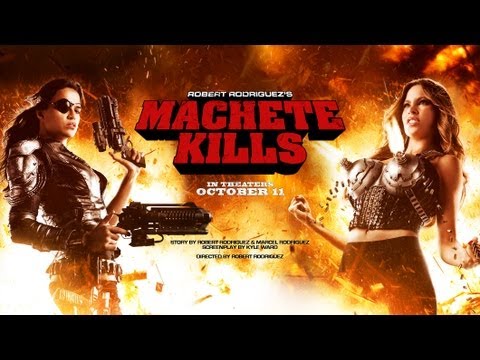 Vivek is a handsome, talented, well-spoken political aficionado and part-time film critic who totally never ever writes mini-bios about himself.
Follow him on Twitter @VerverkS or check out his blog V for Verbatim.