I'll say it right from the outset: this movie is not perfect. The opening sequence of Krypton's destruction and Jor-El's actions to save his son are rushed. The tone of the film, while consistent with itself, doesn't quite convey the kiddy innocence and upbeat jovial nature of Earth's mightiest hero as I and others were probably looking for. The introduction of Lois Lane and the re-introduction of General Zod are both a little out of left field. The romance between Lois and Clark is a little half-hearted. General Zod's actions are not particularly in sync with logic. There's a lot of tell without show. And the movie could probably cool off on some of the lens flares.
But make no mistake: Man of Steel is a very good film and it lives up to its hype.
I'm going to choose not to spoil the film once again, but in writing this review, I'm also going to assume that you know his origin story and/or have seen the original 1978 Richard Donner classic Superman.
To start, the film looks terrific. Director Zack Snyder knows how to razzle and dazzle. In the past, I've described him as the John Woo of modern action movies, but the label doesn't quite do him justice. The opening action bits on Krypton, despite the fact that Kal-El's birth, Jor-El's plea to the council to evacuate what remains of Kryptonian civilization only to be faced with stubborn refusal, General Zod's coup de tat, Kal-El's departure, Jor-El's death, Zod's banishment into the Phantom Zone, the destruction of Krypton, and Kal-El landing to Earth all taking place in the span of twenty minutes of screen time, are grand and theatrical. It sets a sci-fi tone that the film keeps with for the rest of its duration, and it's not unwelcome.
From there we skip ahead thirty-three years and meet a bearded and sojourning Clark Kent. He goes from place to place, working different jobs, and doing various good deeds for people who never learn his name. As he's doing this, the film very appropriately times its flashbacks into his childhood, careful not to interrupt the flow. What's surprising is that the childhood flashbacks are not isolated to one or two special scenes and then skimped over. They take up a significant part of the narrative, but they are spaced out over the course of the film, sensibly juxtaposed with movements in the present plot. One of these moments in particular, involving a twister, was particularly moving in its execution.
The flashbacks are, in essence, how the film builds and develops Superman's character. And that brings us to his actor. Henry Cavill is an awesome Superman. Appearance-wise, he looks less like the comic character than his predecessors – Christopher Reeve and Brandon Routh – but he fits the profile. He's extremely good looking, got a killer smile, and – in the words of the Dropkick Murphys – his figure was chiseled from stone.
The original Superman was intent on convincing us that a man can fly and be the ultimate embodiment of good that will change the world like Christ. One of the things I like best about Man of Steel is the fact that it's a reboot but not a remake of the original film. In doing so, it does two things right. The first is that while it's out to show you that Superman is a god whose superhuman abilities are going to make for some knock-down drag-out action down the road, it also humanizes him in a self-cathartic way – he's a guy who wants to be himself and wants to trust that the people of Earth will accept him for it. And he has no good reason to suspect that they will, so he hides himself. The look on his face when he took to the skies as Superman was an integrally beautiful part of the film. Most importantly, it just looked like a lot of fun.
The second thing it does right was in showing us how the world reacted to Superman. In a previous note I wrote about Superman, I explained that a key characteristic of the Superman mythos is seeing how the rest of the world reacts to his existence and grows with and through him. Man of Steel chose to do this in a very modernized way. With the internet being what it is, people are better able to document the weird things they witness than ever before. If you were trapped in an exploding oil rig and suddenly a shirtless muscular anonymous ripped through the sealed metal door, ignoring the fact that his torso was on fire, got your group out, and then threw himself in front of the collapsing foundation to buy time for your helicopter to take off, you're not likely to forget him…and there's a chance some jackass in your group is recording the whole thing on his phone.
So when he then saves the life of a certain hotheaded investigative journalist who has ventured just a little further than she probably should have, you can just imagine how badly this reporter is dying to find him and learn about him.
Which brings us to the love interest – Amy Adams is a phenomenal Lois Lane. Her rather bullish display of confidence in front of Perry White is classic Lois, and she's able to play with the question of the nature of Lois' interest in Superman following their initial awkward introduction. But it would have been better for the film if they didn't have a romance. I know that's kind of taboo for a superhero film, especially a Superman one, but the dynamic between them leading up to their inevitable kiss doesn't feel quite right. Oh, she plays damsel in distress more than once (this is a superhero movie after all) and her role in the film is far more than what you're probably expecting. She actively takes part in saving the world with Superman (which was really cool), but her specific role as the character of Lois Lane is more about taking the first step in trusting Superman and believing in him. Even with a rescue sequence, these are qualities of friendship with the hint of something more for the future, not outright romance, and it would seem strange that Lois would fall for him this early on and in this set of circumstances. Pace yourself, Zack. Good chemistry, even between two talented actors is rarely established this quickly.
As previously mentioned, the re-introduction of General Zod is a bit out of nowhere. He arrives when the plot tells him to. While we're made to understand what Zod's been doing for all this time, it's done through expositional dialogue. It would have been better for the film if we were shown it earlier instead. His entrance would feel like a natural next step rather than a "oh, we're here now." At the very least, it would have given us more Zod, and while he is an underdeveloped character in the film, Michael Shannon rocks it. He comes to Earth looking for Kal-El but he has other plans that I'm not going to get into because of spoilers. Needless to say, there are some holes the reasoning, but what IS conveyed is that Zod believes what he believes and is all the more dangerous because of it.
The arrival of General Zod is quickly followed by what is probably the film's biggest selling point – the action. Whether or not Man of Steel is the Superman film you've been looking for depends entirely on what you're looking for in a movie about Superman, but what is certain is that this film has some of the best action you'll ever seen in any movie ever made. It's intense. It's exhilarating. It's in your face. The movie makes great use of Superman's versatile abilities. The sheer destructive power of them, especially when matched up against other Kryptonians, is electrifying. The explosions are so bright and big, you'll feel their radiance. Some of the fighting looks straight out of a comic book. There's so much chaos, and yet, it's all incredibly well organized and presented with composure, cleanliness, and bombast.
While the supercharged setpieces of the film are in no small part due to Hans Zimmer's authentically heavy score, the man we have to thank for this is none other than Zack Snyder. This is, hands down, the best action he's ever put to a film, and there's absolutely tons of it. I've often said that Snyder is the John Woo of modern cinema. His select filmography varies in quality and he suffers from an occasional substance problem but few others have such an omnipresent style to the way they direct action that he does. It's his way of showing you what he's made of and nowhere is that more present than in a vividly hard-hitting movie like this one.
A frequent criticism you'll find about Man of Steel is that Superman hardly rescues anyone so it doesn't feel like he really cares. The sheer magnitude of Zod's mcguffin guarantees that people are dying by the tens of thousands and it does indeed seem like saving individual lives is more of a side objective, but you'll forgive me if I find such criticism rather shallow. Here's what's true: this is a darker iteration of Superman, almost TOO dark. And while the character development doesn't ignore the importance of underscoring the greatness in Kal-El that will compel him to be a showpiece of hope and brightness in humanity's future, the symbolic representation of these ideas is far less present. So Superman doesn't look like he's assuaging anyone's fears or compelling you to take solace in the fact that he's going to make everything alright and that it's safe to tuck your kids into bed. But again without wishing to spoil, Superman is literally battling the forces of Armageddon against adversaries that have the exact same powers he does. As idiotic as it sounds…cut the poor guy some slack.
However, that's not to say the criticism is completely unfair. What would have resolved the issue in the film would have been if the Kryptonians he was fighting used human shields, threw humans up the air and forced Superman to rescue them mid-combat – i.e. exploit a key weakness in his sensibilities. Sure, you know he'd save them and he'd look awesome doing it, but it would have conveyed the impression more clearly and it would have given some stomach to a major moral dilemma he makes near the end. Again – not spoiling that one.
But in spite of all these problems, Man of Steel works. Some will love it. Some will hate it. It rises above one obstacle after another and the finished result is a phenomenal sci-fi superhero action blockbuster that is, in my opinion, the best Superman movie ever made.
The Good: The action, the aesthetic, the score, the acting (I didn't mention that Russell Crowe is on par with Marlon Brando as Jor-El), Lois' role, the flashbacks, and the ending.
The Bad: The rushed beginning, Zod's backstory, Zod's re-entrance, the emphasis on keeping with a needlessly dark tone at times, and an excessive amount of expositional dialogue that was more about advancing the plot than making little moments.
The Ugly: The awkward romance between Lois & Clark and the fact that Superman is admittedly a little too willing to shrug off the mass genocide Zod committed over the course of the movie. Like I said – if the bad guys threw some civilians at Superman during the fighting, this wouldn't have been an issue.
Overall: 8.7/10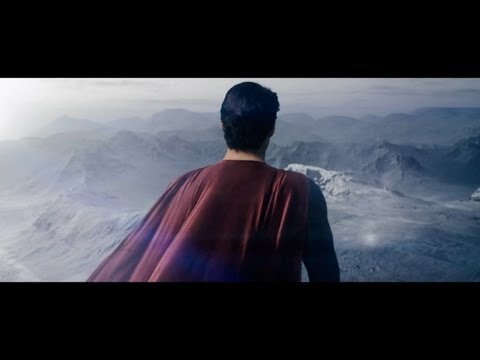 Vivek is a handsome, talented, well-spoken political aficionado and part-time film critic who totally never ever writes mini-bios about himself.
Follow him on Twitter @VerverkS or check out his blog V for Verbatim.