Whether it's the best movies of all time, or the best comedies, dramas or live action puppet movies, people love to make lists. Case in point, this very Pick Six feature on The Cinematic Katzenjammer is our way of listing the best movies within a specific sub-genre. With that being said, no one seems to make a list of movies that contain lists. So to turn the concept on its head, this Pick Six will highlight six of the best movies involving lists. As always, everyone has their own favorites, so please share your thoughts on the list and what you would include!
 Kill Bill Vol. 1 and Kill Bill Vol. 2 (2003-2004)
 Leading this list of lists is Quentin Tarantino's revenge saga, Kill Bill.  The plot is quite simple really, Beatrix Kiddo (Uma Thurman)  must track down her former colleagues (who all happen to be assassins) and exact vengeance on each one, for betraying her on her wedding day. As she crosses each name of the list, we come to a final showdown with her former boss/lover Bill (David Carradine).  While the movie does skip around in the actual order of events, Beatrix always keeps track of who she's dispatched with her "Death List Five,"  so the audience is aware of who she has taken care of and who she is setting her sights on next.  While it is just a simple list with five names, it has a large impact on the story, because it is ultimately the audience's introduction to the other characters in the story and a map of where we are in Beatrix's journey.
Schindler's List (1993)
 You can't have a list of list movies without Schindler's List.  Aside from having "list" in the title, this is a film based on one of the most moving lists ever kept.  Liam Neeson does an excellent job portraying the titular Oskar Schindler, whose extreme unease in how the Nazi party is treating Jews leads to Schindler spending his fortune on saving the lives of 1, 000 people.  Steven Spielberg's deft touch and the documentary style nature of the film, using black and white footage (slight accents of color are sprinkled throughout the film for added effect) lend more gravity to the situation, in so much as stark images of gaunt, skeletal humans being summarily executed needs more gravity. Ben Kingsley and Ralph Fiennes also give great performances in this portrayal of a man's defiance and humanity in the most extreme of situations.  This is well worth being on any list, even the list of list movies.
Zombieland (2009)
"Cardio."  That's rule #1 for zombie apocalypse survivor Columbus (Jesse Eisenberg) in the zom-com Zombieland.  The entire film is peppered with rules from Columbus' list for zombie survival.  From "Double Tap" to "Avoid Strip Clubs" there are a plethora of insights shared throughout the movie, as he, Tallahassee (Woody Harrelson), Wichita (Emma Stone) and Little Rock (Abigail Breslin), make their way across the country to California.  An excellent breath of fresh air in the wake of all of the earnest and sometimes dull looks at a world with zombies, Zombieland features great performances from the entire cast and a hilarious cameo from Bill Murray.  On top of the list of survival tactics the film provides it also gives a new appreciation for Twinkies.  Thank goodness they are back.
High Fidelity (2000)
The Top 5 things that are great about High Fidelity:  1.  The Music 2. Jack Black 3. The Source Material 4. The Love of Vinyl 5. The Lists.  John Cusack does a fine job as Rob Gordon, the main character, who is smarting over the loss of his girlfriend, spending his days looking down on his customers at his record shop.  Jack Black turns in an excellent performance as Barry, one of Rob's employees, ratcheting up his antics, leading to what is ultimately Black's breakout role. Rife with "Top 5″ lists, High Fidelity is a love song to the power and emotion of music and uses these lists to show the personalities of each character.  From the Top 5 Songs About Death to the Top 5 Track One Side One's, the film runs the gamut of musical taste and weaves in an excellent blend of comedy, drama and ennui.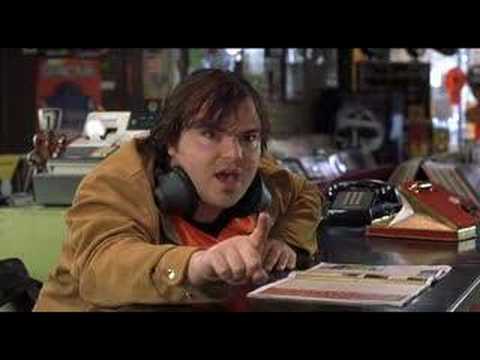 Se7en (1995)
"What's in the box?!"  Brad Pitt's David Mills cries at the end of Se7en.  To find out, we must start at the beginning as Detective Mills and Detective Lt. William Somerset (Morgan Freeman) track down a killer who is using the list of seven deadly sins as his guide for choosing his victims.  This is a tense thriller with great performances from Freeman, Pitt, Gwyneth Paltrow as Pitt's wife and Kevin Spacey as John Doe.  This is definitely not a list someone wants to end up on, but it sure does make for great entertainment.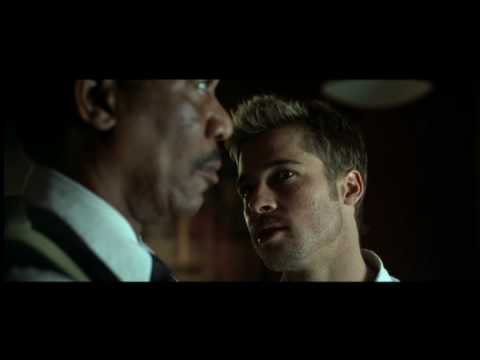 The Ten Commandments (1956)
As Moses (Charleton Heston) exclaims "Let my people go,"  the events of the Exodus of the Jews from Egypt are set in motion.  On this Exodus, Moses, the leader of the tribe ascends Mt. Sinai and gathers God's list of rules for man.  With Heston's bravado and Yul Brynner's (Rameses)  flair for the dramatic, The Ten Commandments takes a look at one of the most epic lists of all time.  Aside from the commandments being destroyed out of disgust and rage, the list has lived on for millennia for people to kill, steal and covet thy neighbors' wives over.  Though the film is overlong, as many epic stories tend to be, it's definitely worth a viewing for the over the top performances, the interesting sets and amazing for its time effects.
Honorable Mentions:
The World's End, The Dead Pool, Gone In 60 Seconds, 10 Things I Hate About You, Fight Club, Mission: Impossible, The Bucket List
Written By Nate
Nate is a loner, Dottie. A rebel. When not slaving away for the man, Nate can be found at his local movie theater watching movies or taking naps, always hoping for that rare private screening. Nate spends his time at home scouring Netflix for the latest and greatest in streaming movies and when his two cats let him, he creates reviews for friends and family on Facebook for all the movies they will probably never see. Excited to be contributing to Cinekatz, Nate can finally look at his wall, where his stolen diploma used to hang, and feel like he is finally putting his Journalism degree to some good use.