"The adventures of a 1920′s bush pilot who just happens to look like a humanoid pig."
Directed by: Hayao Miyazaki, Rated: PG, 94 minutes
Porco Rosso is a big departure from the usual Miyazaki. The story's set in our actual world, taking place in Italy, stars a character that's not necessarily the most likable, and features a handful of themes and characters you wouldn't usually expect. However, the reason it really stands out among all of his other work is that it heavily focuses on planes and aviation, Miyazaki's earliest passion. Of all of his projects, Porco Rosso may be one of Miyazaki's most personal. While I don't think it's one of his better films, it's still great in its own ways and adds quite the variety to the animator's filmography.
Porco Rosso (voiced by Michael Keaton)  is a man with the face of a pig, who's said to be cursed after doing some bad things in his past. He's a haunted figure, never really finding meaning in what he does, just doing the odd job here and there to get by. He's an expert aviator who fought in the first World War and now works as a bounty hunter in the Adriatc Sea. After Porco saves a bunch of children from the pirate gang, Mamma Aiuto, who immediately look at the pig as an enemy. They hire Curtis (Cary Elwes) an American pilot, to take out Porco. At the same hotel the gang and Curtist are at, a young woman named Gina (Sara Egan), who's really good friends with Porco, falls under the affection of Curtis. After he finds out that she's in love with Porco, Curtis grows even more motivated to take out Porco. When Porco heads to Milan to upgrade his plane, he's attacked by Curtis and his plane goes down, making the American believe the pig is actually dead. Porco manages to get to Milan, but must be careful as he's a wanted criminal for abandoning their air force and must figure out a way to get his plane fixed in order to return home. Of course, pirates, Curtis, and the Italian Air Force try to stop him.
If the above synopsis is a bit difficult to understand, I apologize. Porco Rosso doesn't have a linear story that's the easiest to explain. It's more of a look into the life of this aviator and the world he lives in (which is, in fact, ours). It's a story about a man conflicted of what to do, whether he should fight for what's right or fight for himself, and whether or not he has a place in our world with the curse that's been placed upon him. Gina is clearly in love with him, but Porco refuses to accept the fact because he's ashamed of the man he's become. It's this inner struggle that provides the most conflict for the film and we grow to love the character, troubled and all. He's a flawed hero with a badass streak, similar to pretty much any role Humphrey Bogart played, and you can't help but appreciate how cool the figure is, even if he's far from perfect. He feels human, even though he's a pig, and his motivations (or lack thereof) are genuine. Michael Keaton fits the role very well, and his scruffy voice along with that added layer of respectability bring Porco to life.
Even with a remarkably flawed, yet sympathetic lead character, Porco Rosso's finest moments are in the details. Miyazaki is an admirer of all things related to aviation and planes and the design of each aircraft is something quite remarkable. Each aircraft design is that of an actual plane that was used in the time the film takes place and I can only imagine how much fun Miyazaki had with it. The characters and places are all also inspired by real people and locations. Porco Rosso is also one of Miyazaki's more political films, with themes of anti-facism (in pre-WWII Italy) and the reception of a very, "cliche" American in a European setting. Neither issue is raised to the point of feeling forced, as each are only looked over, but seeing such things in an animated film are quite surprising and mature.
Miyazaki's long-time collaborator, Joe Hisaishi provides the score to Porco Rosso and does so brilliantly. The music fits not only the setting, but the titular character very well, and it all adds to the atmosphere. The film is most certainly a throwback to old aviation adventure films and the popularity and fame of pilots in the past, and we're swept up in the romance of the time. Similar to Indiana Jones, Porco Rosso creates a larger than life adventure in the real world, and takes us places we would only find in the thought-to-be fictional bowels of history. While it is far from being Miyazaki's finest work, it's still most certainly worth your time and if you had mixed feelings about the movie in the past, I highly recommend re-watching it. It's more aimed towards adults and the subtle themes and conflicts are not what most children would find interesting, but as I have grown older, there's a lot more to appreciate.
The Good:
beautiful animation you've come to expect in a Miyazaki film, with pastel colors and wonderful character design
The Better:
haunting themes that really bring together a very mature story you would never expect in something (seemingly) so childish
The Best:
a combination of both the score and attention to detail in the animation that leaves your curiosity inspired
Overall: Four Totoros out of Five
7.9/10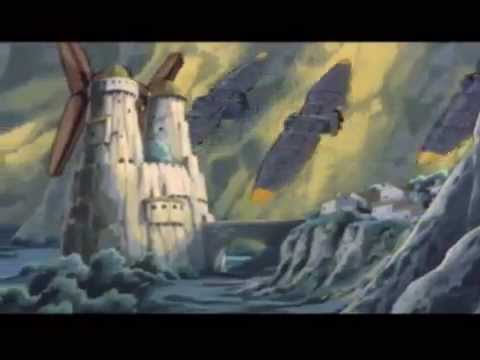 Written By Nick
Nick is a man obsessed with all things related to film. From the most obscure to the very popular, he's seen it all and hopes to one day turn his obsession into a career that makes a lot of money so he can buy a monkey, a bulldog, and a full size Batman suit.