"A salesman for a natural gas company experiences life-changing events after arriving in a small town, where his corporation wants to tap into the available resources."
Directed by: Gus Van Sant, Rated: R, 106 minutes
When you like a character, but really shouldn't, then something is tapping you on the back of your skull, telling you that there is more to them than their role would have you believe. Patrick Bateman in American Psycho, Thank You For Smoking's Nick Naylor and now Matt Damon's Steve Butler. Each one of these carefully devised and splendidly rendered individuals retains a certain insipid, clingy charm that is compelling and sometimes repellent by turns. Either way, however, they all have supreme fistfuls of confidence, are single-minded and quite possibly highly dangerous in the wrong moulding hands.
Enter Promised Land. This tale of what is essentially a salesman (albeit newly promoted) for a natural gas company allegedly pulling the wool over the eyes of every major landowner in America, one farm at a time, is certainly timely given the recent stories thrown up about the dangers (and benefits, though the stories of this are less well-publicized) of the process by which this natural gas is released. If you've even heard of the word 'fracking' before watching this, then you will already be aware of the potential pitfalls this can cause. If not, then you're in for something of a 101 in the fracking process. Don't be too disheartened, however, this is not as bad as it may at first sound.
By the time you're nearly half way in, you can be forgiven for being in two minds as to where your allegiances should lie. Whilst the successful, affable, apparently honest bringer of wadfuls of cash to every small town comes ever so slightly undone by the arrival of what appears to be an even more charming eco-friendly ex-farmer in the form of Damon's co-writer John Krasinski, you cannot help but feel that either these people that promise so much to this town are not even aware of the damage they may be causing, or they are purposefully neglectful for the sake of the almighty dollar. Either way, it isn't the shining beacon of a redeeming savior that spews forth, eschewing good manners and forthright common sense, instead favoring sly brown envelope back handers to those that rock their boat the most noisily.
The performances themselves are admirable if never outstanding and those expecting a script the likes of Good Will Hunting are going to be going home asking themselves if the really 'did like them apples'. It's not bad, far from it, but this too often feels like one short leap from daytime-television- boredom-filler. Damon's Steve and McDormand's sidekick are ample characters for the audience to get their teeth into, but a third act undoes most of the work that has gone before it trying to make this a credible drama with a realistic approach to the vagaries of making a living. This is unfortunate, but most cynics will walk out thinking 'sorry, I'm not buying that', and they would be right. With a love interest that didn't convince, trying desperately to prove that Steve is 'not a bad guy', we have to wonder if he even believes it himself, until nearing the conclusion, he discovers the answer to this once and for all.
With an interesting twist that many will see coming, but nonetheless satisfying when it does, Damon and Krasinski do throw a spanner in the works and the two of them together on screen is admittedly very entertaining, as they attempt to tear verbal moralistic chunks out of each other. In the end, however, you will be wondering just who has really won here, and I include the audience in this equation.
A topical project which didn't work everywhere, with some fancy scripting and a handful of in-form stars make this worth a watch, but don't expect miracles. This is predictable stuff from Damon especially, who can and has done better.
Overall: 6/10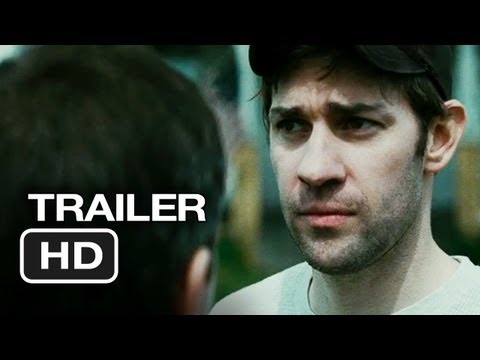 Written By Steve
Steve has been muttering incoherently into his coffee about movies for the last decade or so. He's stubborn, grumpy and passionate about film. If he's not sitting in a row, facing forwards, at least once every couple of days, he will normally be found in the centre of Manchester doing a silly walk or begging for spare change, absent-mindedly attracting the unwanted attention of the local law enforcement. Do not feed him.