If you told me that I would ever watch a feature film that is only eight minutes long, I would tell you to shut up.  And if you told me that after the eight minutes, I would like it, I would tell you to shut up and then punch you.  And if you also told me that I would watch that same eight minutes about a dozen times, I would punch you both before and after telling you to shut up.  Get the idea?  No, it's not a remake of Groundhog Day.  It's a time travel story.  'Nuf said.
Colter Stevens (Jake Gyllenhaal) is startled awake, as if from a nap, on a Chicago commuter train.  Across from him is a very smiley and interested Christina Warren (Michelle Monaghan), who can't seem to stop talking to or take her eyes off him.  Nice, right?  But when a soda can opens and coffee is spilled, Stevens feels like – something.  He looks in a mirror but sees someone else instead of himself. About seven minutes later, a bomb rips apart not just this passenger train but the freighter running alongside it.  And, about three seconds after that, Captain Stevens wakes up strapped inside a dark but familiar capsule with little more than a monitor and speaker through which to communicate with someone he doesn't know but eventually remembers.  Whew.
Colleen Goodwin (Vera Farmiga), whose rank or military branch isn't perfectly clear, presses him for information through the monitor.  Did you see the bomber?  Did you find the bomb?  He is greatly confused until she applies a series of triggers, audio/video items that are connected to his thoughts through a form of hypnosis, and he then remembers who, what, where, and why.  Unfortunately, he did not get any of the necessary information, so – back he goes into the body of the man on the train, talking to the cute girl, soda can opens, coffee spills, etcetera, etcetera, *boom*.
Captain Stevens was flying helicopter missions in Afghanistan when something – happened.  Now, instead of flying missions, he's being used as sort of a time-travelling agent, sent back in time as part of a secret Air Force project that reacts to terrorist-type attacks in order to stop them before (but after) they happen.  Each time he is sent back, he only has eight minutes to stop the bomber and/or the bomb.  If not, the bomb goes off again, he "feels" it again, then he is grilled about what he did and saw, and then he's sent back to try again until he can get it right.  It's almost like a cross between Déjà vu and a reverse version of Memento.
Each time he goes back, he follows another suspect, watches for further suspicious activity, and hold on to that information through the explosion so he can relay as much as possible to the woman with the calm voice but unfamiliar military patch in the monitor.  Each time he learns a little more, rules out another suspect, and provides Goodwin with another puzzle piece to not just the first bomb that takes out two trains but the second bomb, a "dirty" one, that takes out Chicago.
On the surface, Source Code, directed by Duncan Jones (Moon), is just a very good version of Clue, where we eliminate Professor Plum, the conservatory, and the rope or Miss Scarlet, the bedroom, and the candlestick until we find who really did it.  However, there are a few more things that take it to another level, but you're not going to get those things from me.  You'll have to see it for yourself.
Jake Gyllenhaal (End of Watch, Brokeback Mountain) plays things calm when needed but explosive when necessary.  He looks like the calm teacher, which is whose body he appears in, but he also captures our belief when it's time to switch back to the helicopter pilot.  If there ever was an acting challenge, it is pretending to be one man who is also pretending to be another man.  Good luck with that.  Melissa Monaghan (Gone Baby Gone, Mission: Impossible III, IV) is cute and perky enough that Captain Stevens should be thrilled at her interest in him if it weren't for that bomb, terrorist thing he needs to solve.  Vera Farmiga (Up in the Air, Higher Ground) is part soldier, part therapist.  Each time he returns from the past, she must interrogate him while also keeping him sane.  He has too many questions about everything.  If she answer with too much, he might freak out, but if she answers with too little, he might get too angry and accidentally hurt himself.  I know that's vague, but it has to be.
Source Code is an excellent example of a film that takes a chance on something a little different.  It's a time travel story, in a way, so, in a way, I love them all.  They all have holes, and that's okay too because it's part of the fun.  Like Déjà vu, it has limited range which makes it both more of a challenge while forcing the writer and director to be more disciplined.  It's not just going back in time and doing something different, changing something, blah blah blah.  It's a police investigation but with a science fiction method of gathering facts and evidence.
The Good:  An inventive script that doesn't give you a moment to look away
The Bad:  Stevens ignoring the cute girl who wants him
The Ugly:  What's in the box…
Overall: 9.3/10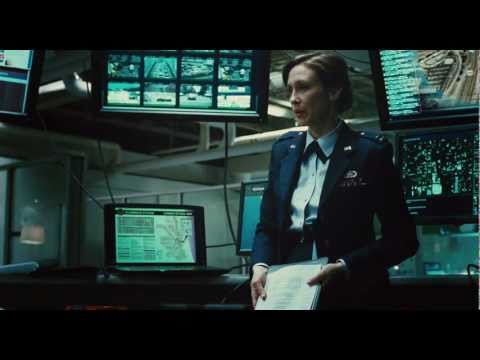 Written By Rich
Rich is a retired English teacher currently polishing up four finished paranormal novels and half a dozen short stories for publication. His film education has been mainly due to watching Siskel & Ebert through high school and college, and he is a regular attendee at Ebertfest, Roger Ebert's annual film festival in Illinois every April. With all this free time on his hands, you'd think he would see more films, but red wine seems to keep getting in the way.