Oz The Great and Powerful – the unofficial prequel to The Wizard of Oz, the 1939 classic Victor Fleming adaptation of L. Frank Baum's novel The Wonderful Wizard of Oz marks the momentous return of Director/Producer Sam Raimi to the business of Hollywood Cinema after nearly four years of inactivity.
While Raimi has certainly been busy, being the executive producer for Spartacus during its first two years, as a director, his last big moment of name-recognition was the disaster that was Spider-Man 3, which in turn led to the cancellation of Spider-Man 4. Between that time and now, the only other film he created was the really fun horror film Drag Me To Hell, which unfortunately for Raimi, didn't achieve the success he was hoping for. Despite its praise by critics, it was only seen by those who had an appreciation for the horror movies he made in his early career (The Evil Dead, Crimewave, Evil Dead 2, Army of Darkness, etc.).
Sam Raimi's best quality as a director is his imagination. He loves making gruesome and grimy monsters and he also usually makes them at least somewhat intelligent (and thus all the scarier) rather than mindless brutes. In 1990, he created his own superhero that had no previous comic book origin Darkman – loosely based off of The Shadow. Raimi also has a thing for warrior women. He produced Xena: Warrior Princess with his friend Robert Tapert and he also created The Quick and the Dead – a feminist western film.
But Raimi's imagination is most successful with how he re-imagines previously established and popular works of art. In 2002, Raimi was given the chance to put Spider-Man into film form. With the dawn of the a new era of computer generated special effects in filmmaking best showcased in movies like The Matrix, as well as the prospect of a big budget ($140 million), Raimi took the original Spider-Man created in the Silver Age of Comics (with Peter Parker being the pitiful high school dweeb that so many of us can relate to) and put him into the post-Cold War 21st Century. The result was a terrific film that spawned an even better sequel.
As you can no doubt tell, I'm a pretty big fan of Sam Raimi.
The reason all of this matters is because just about every major characteristic of Sam Raimi's directing style seems to have come back into the fold with Oz The Great and Powerful. The film is not just a new millennia CGI driven return to the land of Oz for nostalgia purposes. It's a bold and fresh take on the family fantasy blended movie genre that has, for the most part, been lost, at least on the live action front.
And that's why it works so well. It may have been nearly 75 years since the original movie and 18 years since the Gregory Maguire novel Wicked: The Life and Times of the Wicked Witch of the West that became a Tony Award winning musical, but Oz still manages to excite, invigorate, and amaze, without ever having to feel like it is dabbling in an antiquated premise.
Quite simply, Sam Raimi took the helm of a project he was born to create, and knocked it out of the park.
Raimi effortlessly captures the spirit of the original Oz that everyone is extremely familiar with, but he doesn't need the special effects to do it. As a filmmaker, he has never relied on anything superficial, and this movie proves it. The special effects are icing on the cake – they're there just because they can be there. And the green screens look absolutely stunning.
Oz starts out in a 4:3 ratio black/white format of with a circus carnival in Kansas circa-1900. Con-man magician Oscar Zoroaster Phadrig Isaac Norman Henkel Emmanuel Ambroise Diggs (OZPINHEAD) is frustrated with the stagnation of his career, when his devious past catches up to him and he's forced to hightail away on a hot air balloon. While on that balloon, the incoming twister sweeps him out and portals him into the resplendent land of Oz, whereupon the format changes to full color and the screen opens up into the classic 16:9 widescreen ratio.
James Franco has a history of collaboration with Raimi, but he's actually the perfect casting decision for Oscar. While playing to the roguish and borderline sociopathic womanizing jerk personality that many attribute to Franco in real life (true or not), Franco delivers Oscar as someone who in spite of his flaws, has a good heart, but has a misunderstanding of what greatness actually means.
His adventure in Oz and his (let's just call them) affairs with the witches stir up trouble and soon enough, he finds himself in over his head, and must use the tricks he knows how to actually perform to save himself and the people he comes to care for. It's a story you've heard before, but the setting is used as much as possible to make it fun.
Evanora the Good, Glinda the Good, and Theodora the Good
Hint: One or more of these witches isn't actually good
All three of those actors are remarkable in their performance – especially Mila Kunis, but the best characters by far are Finley the Flying Monkey, voiced by Zach Braff, and China Girl, voiced by Joey King. You're going to love her.
You can think of this movie as Army of Darkness for kids, but I'd be remiss if I didn't say I was also reminded of the George Lucas/Ron Howard 1988 fantasy film Willow.
I think the secret to Oz's success, and why I really liked it when its reviews were mixed was because it was very much not a filmed fan fiction. While Raimi is tugging hard on your nostalgia, he's not doing so in a way that merely reminds you of how good the main film is. That would be a pointless exercise that is nonetheless too often attempted by directors like J.J. Abrams. Raimi's goal is simply to take you on another adventure in a land that has become larger than life thanks to a series of books but namely one single groundbreaking triumph of a film. Call it a cheap cash grab at seconds for the original if you'd like, but I think he succeeded.
Now, to raise one more subject, many critics have (in their attempts to be clever and in-touch with sci-fi nerddom) criticized Oz and compared it to the Star Wars prequels – highlighting the ostensible visual upgrade but contesting the substance of the film as either unnecessary therefore objectionable, or as lacking in general. On the latter subject, whether these critics are referring to the allegorical nature of Baum's original book or if they're just assuming, fallaciously, that films of today, even the ones that remind us of what they used to be like, can't possibly be as interesting as the ones they're celebrating, isn't for me to say.
But the comparison in general falls flat on its head once you realize that Oz The Great and Powerful is A. a kids/family movie, and 2. The fact that the substance of Oscar's character, much like Dorothy's character in the actual films have nothing to do with any kind of bigger picture so much as they have to do with inner salvation, and 3. The fact that the tie-in between these films exist far more stylistically than they do substantially – which is what Raimi intended in the first place.
I don't think Oz deserves any kind of comparison, because it's such a quaint and joyful harkening to what may be the most famous movie of all time, but if I had to make the comparison, I'd compare it to Prometheus…but in the good way. Oz tells its own story, which just so happens to be an origin, but don't think too deeply of that comparison, or bring your feelings on that movie into this.
Score: 8.6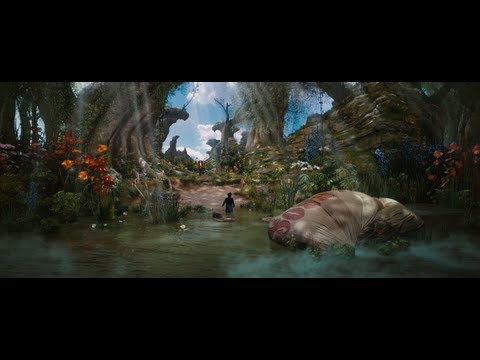 UPDATED: If any of you are looking for some memorabilia for The Wizard of Oz, there's a company called The Collectionary that sells them. Check out their website and take a look at their merchandise. They've got a lamps, clocks, Monopoly renditions, ruby slippers, and lots more. If you're a collector or have a kid obsessed with Oz the way we all were back in the day, this might be a fun place to shop for Christmas. And be sure to like their Facebook page as well.
Cinekatz is a website that gives news, reviews, commentary, and updates for movies. For more reviews by me, here's my Cinekatz profile. While you're at it, be sure to check out Nick Powell and Colin Flanagan as they update the most. If this is your first time to Cinekatz, we invite you to make yourself a Disquis profile and join us in our discussions. We love feedback and we will almost always respond to you.
- Vivek
Vivek is a handsome, talented, well-spoken political aficionado and part-time film critic who totally never ever writes mini-bios about himself.
Follow him on Twitter @VerverkS or check out his blog V for Verbatim.