In a tale as old as time, you have to start living your life. That's the main theme of Dreamworks Animation's The Croods, an extremely fun and vibrantly colorful family film. The over-protective father of the prehistoric family, Grug (Nicolas Cage), is the family patriarch. Unless they're hunting, they live in a pitch black cave for days at a time because "fear" is a good thing. His teenage daughter, Eep (Emma Stone), thinks there's got to be more to life. She will soon find out how correct she is.
The world they know is coming to an end, as earthquakes and lava are tearing the land to literal pieces. The Croods end up relying on a young wanderer named Guy (Ryan Reynolds), who can create fire, to show them the way to a new world. Along the way they encounter saber tooth tigers, fist throwing monkeys, and meat eating birds.
The Croods is beyond visually pleasant. It's stunning, at times. The square jaws, oblong foreheads, and bad dental care of the caveman family does not do justice to the world surrounding them. There are moments of discovery that felt equal to Alice in Wonderland, only bigger and brighter. Creature upon strange creature kept popping out of nowhere. The world beyond their cave looks like the bottom of the ocean with bright and vivacious flowers and plants scattered throughout. The film excelled in the moments when you shared the discovery of these visual delights.
Grug's unwillingness to grow or change gets a little tiresome going well into the second or third act. Even still, you might get a lump in your throat from time to time. The Croods executes extremely well, even when using tired tropes. Director Chris Sanders also directed Lilo & Stitch and How to Train Your Dragon. Although, this one isn't quite as good as those two, rest assured Sanders still knows how to craft a great story.
The rest of the voice cast, Catherine Keener, Cloris Leachman, and Clarke Duke, are all fine, if not underused. Nicolas Cage is doing some of the best work he's done in a very long time. He's playing it straight here, and his normal voice seemed to fit Grug well enough. Ryan Reynolds is surprisingly charming as Guy. As always, Emma Stone is great and really makes a fun bridge between Grug, Guy, and the rest of the family.
The film is essentially about living your life, and never giving up on discovering new things. I wouldn't say that The Croods is an overall original idea, but it's also a movie for kids. It has faults, but it also overcomes any of those with great animation, heart, and execution. It's a story that should be enjoyed equally by adults and children, and overall it's a wildy entertaining family film.
Overall: 8.0/10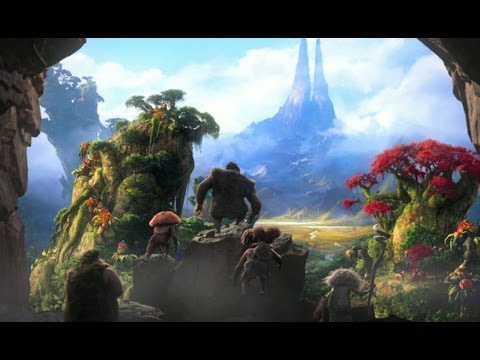 Written By Shane
Shane is a very talented writer that has been scribbling in notepads for most of his life. He loves all things movie related. His favorite film genres are Bill Murray, Super Heroes, and comedy. He loves talking movies, so leave him comments, please.