There's nothing unique about romance, particularly in this day and age. So, when a movie makes the effort to rewrite the book of love you have to take notice; even more so when the script is written by the legendary Harold Pinter. The French Lieutenant's Woman is a historical romance interwoven with a modern day critique on relationships, movie-making  and the parallels of reality vs. fiction. With all these topics thrown around, you need actors who can work with the mountain of problems the script doles out, and thankfully stars Jeremy Irons and Meryl Streep are the perfect combination. I'm not saying this movie is for everyone (there's certain people who should avoid this entirely), but for those looking for a romance that will make you swoon while you're thinking, it's worth a watch.
Mike and Anna (Irons and Streep) are two actors working on a historical romance set in the 1880s; they're also mired in a blistering love affair despite being married to different people.  Running concurrently with their on-set romance, is the plot of the movie their making which follows a staid biologist (Irons as well) who falls in love with the outcast Sarah Woodruff (Streep) who waits for her French lover to return to her.
The French Lieutenant's Woman isn't my favorite romance, but it's unique and easily makes my top ten.  The assembly of the plot is what causes this to stand out, as you have two totally different sets of lovers telling two individual stories, all whilst being played by the same actors!  From that moment on the movie makes you explore the differences between courtships and relationships then and now, but the whole idea of the movie-making industry.  The affair between Sarah and Mike is not secret to those working on the set, it's secret from their significant others.  One immediately thinks of the gossip rags and their "blind items" that protect the names of despicable celebs doing despicable things, and that's really how the modern day story plays out; one big blind item.  It's always interesting to see celebrities romance on-set, and the Golden Age of Hollywood revolved around "star pairings" and the belief that they were together in real life.  The modern day story of The French Lieutenant's Woman plays on the fantasies of Hollywood, and shows that once the glamour is removed, these are still two people cheating on their spouses for a reason.  The fact that their story doesn't get the Hollywood happy ending is telling, even more so when Mike yells out Anna's character's name proving that he's been blinded by the Hollywood glamour as well.
This is heightened by the pairing of Streep and Irons, who were on a tear of fantastic performances during this decade.  Both have experience romantic dramas, and neither actor has personified what to expect in a period romance than they do.  Irons is dashing, commanding, and beyond romantic in this film (it doesn't help that I've had a massive crush on him since seeing this movie as a teenager).  Streep goes through a barrage of emotions playing Sarah ranging from lust to insanity, and everything in between.  As their modern day counterparts, Irons edges out to have the better written character.  Mike has a wife (played by Penelope Wilton) and a child whereas Anna lives in a cold marriage with no children.  During a cast BBQ at the conclusion of their filming, you see Streep get misty-eyed to  see the love Mike has for his family.  And yet, that's really the only moment of Anna letting her walls down.  Yes, there are moments opposite Mike where Anna feels secure, but there's a distance and a hard quality that's never let down.  It could be Streep's testament as an actress that she imbues Sarah with so much complexity and Anna feels like a block of wood, but I think that is laid at the feet of the script.  Mike is the character who believes in the romance he's filming so much, whereas Anna is realistic.
The major gripe that I lay at the feet of The French Lieutenant's Woman is that there's never an equilibrium between both plots.  The audience is meant to watch both stories and determine which decade romance thrived: In the 1800s where social ostracism for being in love was the norm or in the modern where you can have whoever you want, so long as they aren't married?  And furthermore, how much of the 1800s story that's being filmed has been altered for entertainment purposes?  That's where Pinter's script gets you with the idea of reality vs. entertainment.  Sarah is ostracized causing her love with Charles to be more passionate because it is forbidden (not too far removed from the Mike and Anna plotline), and yet we're only given a few societal constraints.  The character of Charles' intended, Ernestina (Lynsey Baxter), is written to be a selfish rich bitch, yet that's what the screenwriter has given the audience.  We idealize times gone by, and remove the bad things (poverty, rampant illness, etc.) to make things romantic.  Mike and Anna spend a moment reading facts about 1800s England and are shocked to read about the rampant diseases and prostitution that was around at this point, none of which is shown in the film.  As a package, The French Lieutenant's Woman gives you two modes and asks you to choose which one you enjoy: Having your movies spoon-fed and packaged to you?  Or given as they are with complexities and messy resolutions.  The fact that the climax doesn't give you an answer stirs the audience to question which story they feel is better.
The French Lieutenant's Woman isn't a romance for those hoping to get lost in a sea of fluttering fans, chaste kissing, and a bow at the end.  The wealth of analysis that can be mined from the various stories makes this a thinking man's/woman's romance dominated by two powerhouse performances.
Rating: 8 out of 10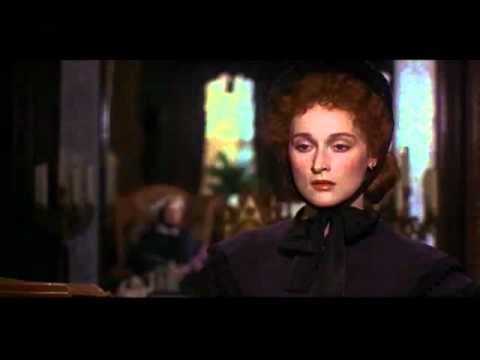 Written By Nick
Nick is a man obsessed with all things related to film. From the most obscure to the very popular, he's seen it all and hopes to one day turn his obsession into a career that makes a lot of money so he can buy a monkey, a bulldog, and a full size Batman suit.