"In GDR Berlin, a man charged with the surveillance of a socialist writer becomes entangled with the lives of his subjects."
Directed By:  Florian Henckel von Donnersmarck  Rated: R, 137 min
Watching a movie, do you ever get a flash of what you look like?  Eyes wide, mouth open, elbows propped on knees, leaning towards the screen where people live on the other side of reality's coin.  Or maybe you're in your room in the dark with your headphones on, neck bent, desperately ignoring the sounds of your body's operations, looking hard at your desk so you can emblazon someone else's words on the back of your eyelids, words you never knew you missed and from now on will live by.  A bookmark once told me that he who reads – or watches movies, for that matter – lives a thousand lives before he dies, while the man who never reads lives only one.  The search for meaning keeps us peeping in windows through pages and movie screens and sometimes into real lives.  It makes us voyeurs.
Meet Hauptmann Wiesler.  He has lived only one life for all his life, or maybe he's lived less than one, for in some places and some times, it's hard to tell the difference between one life and none.  Hauptmann is a spare man, clean sided and useful as a scalpel.  He keeps his hair short and his fingernails clipped.  He dresses in well made, if unremarkable, clothing and lives in an apartment marred by a single fingerprint, left in red ink.  Looking at him, wearing his slightly cold, aware, and mildly severe expression, you begin to think he would have made a better knife than he would a man.  He knows people the way that a lie detector knows them, by measurable pressures, weaknesses, points so small and exact they can be charted on paper.
It is 1984 in Berlin and the Wall stands.  Wiesler teaches Stasi (Secret Police) recruits how to interrogate.  He teaches them to break a man with the dispassionate attendance to method of an old man teaching a young man how to split a walnut.  At a play, Hempf, the minister of Culture, drops a hint to Wiesler's superior that he suspects Dreyman, a socialist playwright, of subversion.  He glances at Christa, Dreyman's beautiful girlfriend, contemplatively and recommends something be done about it.  Wiesler bugs Dreyman's apartment and sets up an operation in the attic room above it.  He sits in a room upstairs, wearing a pair of headphones, bent forwards in his chair, eyes closed, listening to Dreyman and Christa, and finds in himself something more than professional interest.
As he combs for evidence of subversion, the forces of love and loyalty and dishonesty and honor Wiesler uncovers in Dreyman and Christa's lives serve as a catalyst for him.  Wiesler is a blank slate of a man who has straggled to the present with no more substance than an iron silhouette.  Describing his past would be as useless and easy as printing a bullet point list and you only have to take a peek into his apartment, at the bland flotsam of furniture and utensils to see that no one lives there.  The attic room contains no more than a chair, a desk, a listening station but to Wiesler, it is full of people with momentous lives.  He chalks an exact floor plan of their house on the floor so he can imagine where they stand.
Sitting in the attic room with his ear pressed to the pulse of other lives, Wiesler learns the sound of a heart.  He takes guilty sips of the overfull life below him and the more he takes from them, the more he makes decisions that endanger his invisibility.  As Hempf's jealousy beset the charming life that Dreyman and Christa have carved out for themselves, Wiesler turns into a vague grey presence that navigates the currents of their deceit and trust.  In one memorable scene, he discovers his own sense of justice when he perceives a tragedy befalling an unwitting Dreyman and he rings a doorbell.
The Lives of Others works best when it, like its character, is spare and bony.    It examines where sympathy comes from, where love and trust come from, and loyalties are formed.  All around him, people fight for ideals that turn them into monsters while Wiesler puts together the first building blocks of the human heart.  He is extremely fortunate, or unfortunate, that he learned to live a life slim enough to fit into a manilla folder while the people around him, that he listens to and interrogates, make mistakes, get angry, and are broken.   Wiesler doesn't know how to even begin to live his life.  His few attempts fail and he goes back to living vicariously through Dreyman and Christa, like a grey shadow they throw on the wall.  It's as close as he will get to real life.  When it's threatened, he will protect it.  It's a strange love story, but the strange love stories are the most honest.
The problem with the movie, as so often happens with double layered narratives, is that what Wiesler listens to, so fascinated, wasn't as fascinating as him.  Some of the love making scenes, shot in sepia against the background of a note, with Dreyman's shirt half unbuttoned, struck me as overdone.   I didn't care much for Dreyman and what I did care about him, came from the circumstances of the GDR's inhumanity rather than his character. He was important to me as a man, and not a personality and I felt time drag through his scenes.  I think the movie would have done better if we only knew Dreyman through Wiesler's headphones, because then he became a small bright heartbeat in a wide darkness.
As Wiesler found himself fascinated, I found myself fascinated to watch Wiesler balance Dreyman's fate against envy and sympathy. Like Wiesler, I considered Dreyman arrogant for the things he had that others didn't.  While other artists starved and struggled, and were discovered hanging in closets from nooses, he grew fat on hand outs through no fault of his own but luck. From Wiesler's perspective, where you can perceive the traps set around the writer, its infuriating to watch Dreyman move through pitfalls so recklessly, with out a word of thanks for Wiesler and only a sense that he has a mission to say something important.   Of course, Dreyman is unaware of his pitfalls.  Wiesler actively prevents him from knowing about the danger surrounding him, and wards off the police.  We're jealous of Dreyman the way we're jealous of all lucky people.
Some people have all the luck.  They live many lives, as lovers, writers, friends, mothers, fathers, athletes, poets, professors and actresses.  They live a thousand restless lives, each at one time better than the other and impossible to weigh and sometimes they might give up every life they have for the sake of one.  Some men don't get a thousand lives though.  They weren't born with luck.  Somebody taught them to live as sparely and tepid as a grey afternoon shadow.  And maybe they get the shot to live one life, and live it correctly.  Some people have all the luck. Other people have to be the luck.
The Good: The soundtrack blew me away at times and left me flat only very rarely.  The film also offers insight into what seems now a completely foreign country – GDR Germany.
The Bad: Dreyman and Christa get a little too much screen time and get hot and bothered about it.
The Most Intensely Listened To: Wiesler's slow growth into a human being is fascinating to watch.  The bones of this film are beautiful.
Overall: 8.0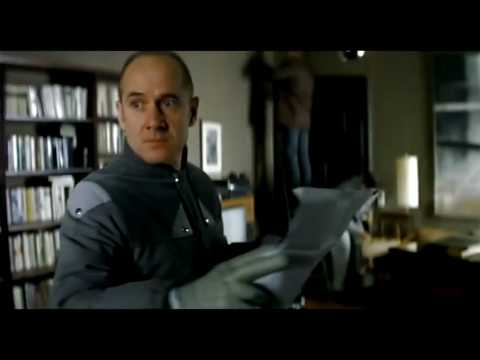 Michael is an avid writer, recluse, one-time vagabond, beer-brewer, and reluctant bartender in the vast No-where flats of Ohio. When not working on his short stories, you can find him in his room watching movies, or ignoring everyone in public with his face in a book and a beer in his hand. He graduated with degrees in writing and philosophy and plans this fall to move on to the University of Virginia, to pursue his MFA in fiction. He'll gladly sit down with you and a beer to discuss a film.