At this year's Ebertfest, the one film I was looking forward to more than any was The Spectacular Now, written by Scott Neustadter and Michael H. Weber (500 Days of Summer) and directed by James Ponsoldt (Smashed). It has been praised as the most realistic, teen/high school relationship movie you could ever expect to find, something that would "change the way high school movies would ever be made again." Found that on IMDB. I don't know if that's what I saw, but if it is what I saw, then I hope something else comes along to change everything again.
Sutter is well played by Miles Teller (Project X, Footloose-2011) as an overconfident high school senior who only takes one thing seriously – his own happiness, his own spectacular now. He drinks too much, although he shouldn't be drinking at all, and he's got a typical, enabling divorced mom (Jennifer Jason Leigh) who never seems to hold him to any consequences, even when he plows over their mailbox while driving home drunk. He's also got a disconnected, drunk of a divorced dad who split with Sutter's mom because she couldn't embrace the "now" in the same way that Sutter is now embracing the "now." He is the BMOC. It's not a party until Sutter is there. He's got the hottest girlfriend. Although they've broken up and she's got a new boyfriend, they still have a FWB thing going on. So far, nothing new.
After another night of hard drinking, Sutter wakes up on the lawn of a plainly pretty Aimee Finicky (Shailene Woodley). She's the trifecta of a daughter: smart, pretty, and mature. No makeup, ponytail, focused on school. Her only "problem" is that nobody has ever really paid attention to her, so she jumps at the chance to cross the proverbial tracks and go to a drinking party in the woods with Sutter. Still nothing out of the ordinary for teen movies, especially most anything by John Hughes.
Sutter gets in trouble everywhere – school, work, home, friends – and regularly, successfully, talks his way into and out of everything, including Aimee. Pun intended. He's a heartbreaker who can't be broken because it doesn't seem like he has one, so it's not a fair playing field. He's this year's Ferris Bueller but better with girls and liquor.
Sutter's mother doesn't allow him to know how to get in touch with his father, not spitefully but for what she believes is a good reason. When he attends a dinner party at his sister's house, she helps him get in touch with long lost dad. Whether or not that was a good idea, you will have to decide for yourself. However, here's what you don't have to decide for yourself.
Woodley is wonderful as Aimee, just as she was wonderful in The Descendants and nominated for a Golden Globe. What is not wonderful is how she's treated in The Spectacular Now. In a time when more and more films are trying to portray smarter, stronger, and more independent women, this one takes a step back. Sutter is the cause of several very bad things for her, including one that literally knocked me out of my seat, yet she seems to either be dumb or desperate enough to run back to him as if nothing ever happened. To call it disappointing would be an understatement.
Also disappointing is that despite all of the wrong behaviors that Sutter demonstrates, at no point does he suffer anything. He causes problems for nearly everyone in his life, yet he skates away without any damage, either physical or emotional. He successfully seduces the good girl while still bedding the previous girl, and then he literally leaves her on the side of the road. Then at the end, he suddenly seems to be sorry and expresses so while writing a college entrance essay, yet he's pounding another beer while doing so. I guess what I wanted to see was genuine sorrow and learning, a change in behavior. Instead, he only seems to benefit, while others suffer, from each poor choice.
Is the acting good? Too good. Woodley and Teller are too believable and demonstrate all of the things you hope high school kids are not doing while you know they are anyway. She too easily yet believably gives in to his physical urges, allowing him to take a most private moment without nearly the same emotional risk that he stands to lose.
The Spectacular Now separates itself from other teen movies in that you will completely feel as if you're watching two real teens living two real lives. Where it separates itself from me is that it portrays too many negative behaviors without anyone learning anything. Ponsoldt is dislocating his shoulder to pat himself on the back for a realistic teen story. But there are too many real Sutters out there who would walk away, also patting themselves on the back, and feeling justified in fulfilling their own "spectacular now" while leaving too many casualties on the side of the road.
Regardless of the flaws, it's a movie you should see if only to feel as if you're very convincingly peeking into the lives of others. Not every good movie has a happy ending. If a movie affects you, then it did a good job. The Spectacular Now affected me, true, but I'm not who it needs to affect. It needs to affect those who are living it every day. It needed to affect them in ways to maybe change their paths and make better choices. Instead, it did the opposite, and that only gets 6.5 of 10 stars, all 6.5 for excellent acting, and 3.5 lost for a missed opportunity.
The Good: Sutter's teacher and boss, who try their best to set him straight.
The Bad: A missed chance to show realistic, bad teen behavior but also teach a good lesson.
The Ugly: What knocked me out of my seat, but it's ugly in a good way.
Overall: 6.5/10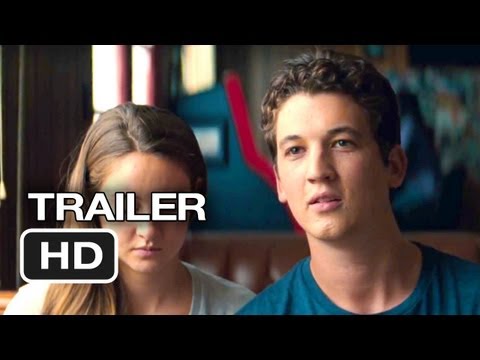 Written By Rich
Rich is a retired English teacher currently polishing up four finished paranormal novels and half a dozen short stories for publication. His film education has been mainly due to watching Siskel & Ebert through high school and college, and he is a regular attendee at Ebertfest, Roger Ebert's annual film festival in Illinois every April. With all this free time on his hands, you'd think he would see more films, but red wine seems to keep getting in the way.