TNT has released the first trailer for the long in-development cops and mobsters drama event, Mob City (Still called Lost Angels on IMDb).  First popping up as L.A. Noire and then Lost Angels, Mob City is a four episode special event scheduled to air on December 4th.  Set in Los Angeles in 1947, Mob City tells the story of the battle between the LAPD and the now legendary mobsters Bugsy Segel and Mickey Cohen, as the LAPD struggles to keep the mob and their own internal corruption from destroying the city.  Produced by Frank Darabont (The Walking Dead, Shawshank Redemption) and starring fellow The Walking Dead casualty Jon Bernthal, as well as other familiar faces including Neil McDonough (Band of Brothers, Justified), Ed Burns (Saving Private Ryan, Brothers McMullen) and a special guest spot by Simon Pegg (Shaun of the Dead, Star Trek), this looks to be an extremely gritty mini-series.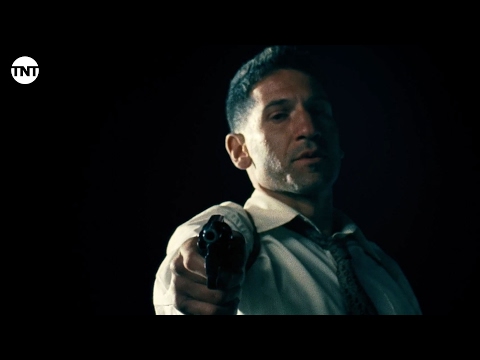 Immediately upon watching the trailer, the disappointing Gangster Squad popped into mind.  Gangster Squad told essentially the same story, but didn't have the slow burn or tension I got just from this short clip, though.  Though McDonough is the police chief spear-heading the campaign to rid L.A. of its crime bosses, Bernthal appears to be the central character of the show, as his character Joe Teague, is featured in almost every scene of the trailer.  Although the taste of Gangster Squad and the potential it squandered with the subject matter, is still fresh in my mouth, Mob City looks to be a much more violent and dark look at how the police cleaned up the mean streets of Los Angeles.  Bernthal is a solid actor, as are McDonough and Burns, so I feel confident that if anything there will be great acting in the show.
It will be interesting to see how this series will play out on TNT, which doesn't quite have the pedigree as some other cable stations like AMC or even FX, but based on this trailer I am cautiously optimistic about what Mob City has to offer.
What did you think of the trailer?  Are you looking forward to watching this too?  Let us know your thoughts!
Written By Nate
Nate is a loner, Dottie. A rebel. When not slaving away for the man, Nate can be found at his local movie theater watching movies or taking naps, always hoping for that rare private screening. Nate spends his time at home scouring Netflix for the latest and greatest in streaming movies and when his two cats let him, he creates reviews for friends and family on Facebook for all the movies they will probably never see. Excited to be contributing to Cinekatz, Nate can finally look at his wall, where his stolen diploma used to hang, and feel like he is finally putting his Journalism degree to some good use.